Sebaceous Hyperplasia in Relation to Immunosuppressed/Organ Transplants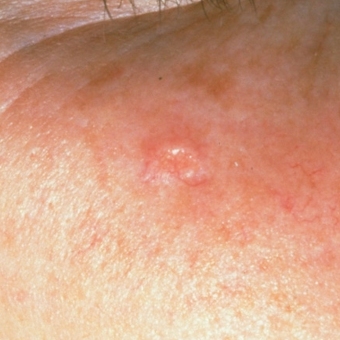 Sebaceous hyperplasia are enlarged sebaceous glands that appear as small yellow-white dome-shaped nodules, usually on the forehead or cheeks. These nodules can have a slight indentation in the center and a white or yellow outer edge and can be up to 3mm in diameter. Sebaceous hyperplasia is a form of benign hair follicle tumour so they are harmless—they may just be unsightly, and clients will want them removed. They are not painful, and they are sometimes misdiagnosed with basal cell carcinoma and/or acne. Sebaceous hyperplasia may be more prevalent in immunosuppressed patients as a result of immune suppressing medication such as Cyclosporin A. This drug will be administered following organ transplantation.

SPA MANAGEMENT
What is the cause of sebaceous hyperplasia in your client?
Since Cyclosporin is highly lipophilic (dissolves in fats), it has been suggested that the sebaceous gland might be the major site of elimination in the skin. On the other hand, Cyclosporine increases the activity of the 5-α reductase enzyme, increasing sebaceous secretion.
Determine any medications, contraindications, and cautions before proceeding with any spa treatment.
Treatments that can be offered:
Topical retinoids and azelaic acid products
Electrodessication
Laser vaporisation
Cryotherapy
When the lesions are severe, extensive or disfiguring, oral isotretinoin is effective in clearing lesions, but these may recur when treatment is stopped. Topical retinoids and azelaic acid may help keep new sebaceous hyperplasia blemishes from forming because they speed up the skin's natural cell turnover rate. In females, antiandrogens may help improve the appearance.
DISCLAIMER: Work within the scope of your license/certification.

About the Author
Mórag Currin is a highly sought-after esthetic educator with more than 27 years of spa industry experience and more than twelve years of training and training management experience. She travels around the globe with her training and expertise, helping to raise the bar in the spa industry and to open the door to all people, regardless of skin type or health condition. To learn more about this topic and many other skin challenges, diseases, and symptoms, check out Mórag's book, Health Challenged Skin: The Estheticians' Desk Reference.

ASCP Member Discount
ASCP Members receive 30% off Health Challenged Skin: The Estheticians' Desk Reference. Click the link here to access your exclusive discount!