ALOPECIA AND CANCER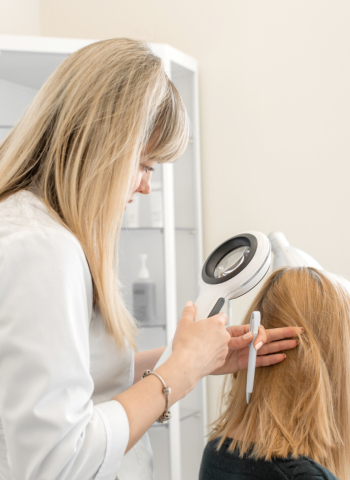 Alopecia (hair loss) is a transient and usually (though not always) reversible consequence of systemic cancer treatment that can be psychologically and socially devastating. Hair growth post-cancer treatment can take several months to a year to recover.
Chemotherapy induced alopecia depends on the type(s) of chemotherapy drugs, the dose, and the schedule. Most regimens are given every two to three weeks; therefore, alopecia starts around 10–14 days and is completely lost by the end of the second cycle of chemotherapy. Weekly chemotherapy generally results in slower and occasionally incomplete alopecia, and the hair may actually start to grow back with continuing treatment. High-dose chemotherapy used in the setting of stem cell transplant leads to rapid and complete alopecia.
The hair follicle resumes normal cycling within a few weeks of completion of treatment, and a visible regrowth of hair becomes apparent within three to six months. The new hair often has different characteristics from the original with about 65% of people experiencing gray hair color, curls, or straight hair, which is likely due to differential effects of chemotherapy on hair follicle melanocytes and inner root sheath epithelia; however, these effects often resolve over time.
SPA MANAGEMENT FOR ALOPECIA:
What is the cause of alopecia areata in your client?
Full or partial hair loss or thinning can result as a side effect of some chemotherapy drugs, some targeted therapy drugs, radiation therapy to an area where hair is prevalent, or from a stem cell (bone marrow) transplant treatment.
Because chemotherapy effects are typically specific for proliferating cells, which reside in the bulb, sparing the quiescent stem cells in the bulge that are responsible for reinitiating follicle growth, chemotherapy induced alopecia is usually, but not always, completely reversible.
Determine any medications; contraindications and cautions before proceeding with any spa alopecia treatment.
Alopecia treatments that can be offered:
Rosemary essential oil (Rosmarinus officinalis) and cedarwood essential oil (Cedrus atlantica) can be mixed into a carrier oil and massaged into the scalp.
Cold cap therapy/scalp cooling
Drugs:

Topical bimatoprost (0.03%), a.k.a. Latisse/Lumigan, has been used successfully on the upper eyelid margin to enhance eyelash growth in people with eyelash hair loss.
Topical minoxidil, a.k.a. Rogaine, modifies the hair cycle by prolonging the anagen phase and increasing hair follicle size.
For many people, emotional trauma from hair loss may be so severe that they refuse or delay treatment that might otherwise be beneficial. Whatever the type of hair loss, it may be extremely distressing and embarrassing, reducing their quality of life and causing psychosocial problems. Loss of normal scalp hair can also increase the risk of sunburn and injury to the area.
DISCLAIMER: Work within the scope of your license/certification.

FAQs
Is alopecia genetic?
Alopecia can be genetic but there are many factors that play a roll other than genetics.
What does scarring alopecia look like?
Scarring alopecia looks like normal alopecia but the bald patches left behind are covered in scar tissue instead of smooth skin.
Does alopecia hurt?
Alopecia does not hurt normally, but it can cause scalp tenderness.
Who is most likely to get alopecia?
There is not one group of people who are most likely to get alopecia. Alopecia can affect anyone and the onset is typically during the teenage years, twenties or thirties.
Does alopecia spread?
Yes, alopecia can spread and even affect the eyebrows and eyelashes.
About the Author
Mórag Currin is a highly sought-after esthetic educator with more than 27 years of spa industry experience and more than twelve years of training and training management experience. She travels around the globe with her training and expertise, helping to raise the bar in the spa industry and to open the door to all people, regardless of skin type or health condition. To learn more about this topic and many other skin challenges, diseases, and symptoms, check out Mórag's book, Health Challenged Skin: The Estheticians' Desk Reference.

ASCP Member Discount
ASCP Members receive 30% off Health Challenged Skin: The Estheticians' Desk Reference. Click the link here to access your exclusive discount!