Dermatitis Herpetiformis in Relation to Celiac Disease
Celiac disease, a.k.a. gluten enteropathy, can affect many people with a skin condition known as dermatitis herpetiformis (DH).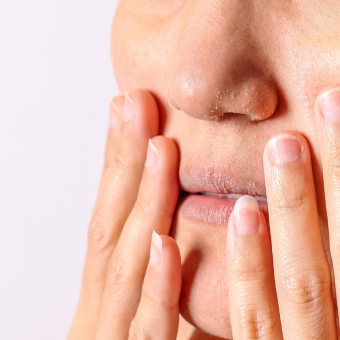 It predominantly affects females under age 20, and yet the ratio of male to female is 2:1. Despite many other symptoms such as tiredness, abdominal discomfort, and bloating, the skin-related issues resulting from celiac disease are:
Ulcers in mucous membranes in mouth and cheilitis in corner of lips
Dry skin
Nail and hair abnormalities
Dermatitis herpetiformis is usually found in a symmetrical pattern. Lesions most commonly appear on scalp, shoulders, buttocks, elbows, and knees. It is characterised by prurigo (extremely itchy papules) and vesicles (small, fluid filled sacs) on normal or reddened skin, which often appear in clusters. Blisters can be eroded and crust due to scratching. Dermatitis herpetiformis may also present initially as digital petechiae on fingers and feet. Lesions can also leave postinflammatory hypopigmentation and hyperpigmentation.
SPA MANAGEMENT
What is the cause of dermatitis herpetiformis in your client?
Internally, instead of being highly folded/twisted, the intestines are smooth and flattened, and this results in a very poor absorption of nutrients. DH is caused by the body's immune system reacting to a protein called gluten in foods containing wheat, barley, and rye. This reaction causes a skin rash to develop.
Determine any medications, contraindications, and cautions before proceeding with any spa treatment.
Treatments that can be offered:
Topical corticosteroids and peppermint hydrosol; cooling agents such as menthol and calamine can help with itching
Apply a cold, wet cloth or ice pack to the skin that itches. Do this for about 5–10 minutes or until the itch subsides, and then apply emollients.
Ask client if they have any issues with iodine
Gluten is a protein found in wheat, barley, rye and other grains, so gluten-free skin care cannot contain any gluten or gluten by-products.
Avoid ingredients with wheat, gluten, or triticum (Latin for wheat) in the name, including:
AMP-isostearoyl hydrolzyed wheat protein
Hydrolyzed wheat protein (HWP)
Hydrolyzed wheat gluten
Triticum lipids
Triticum vulgare
Wheat bran extract
Wheat germ extract
Wheat germ glyceride
Avoid ingredients with barley, malt, or hordeum vulgare (Latin for barley) in the name, such as:
Barley extract
Hordeum vulgare extract
Malt extract
Avoid ingredients with rye or secale cereal (Latin for rye) in the name.
These ingredients, derived from oats or avena sativa (Latin for oats), may be cross contaminated with gluten:
Sodium lauroyl oat amino acid
Avena sativa extract
DISCLAIMER: Work within the scope of your license/certification.
About the Author
Mórag Currin is a highly sought-after esthetic educator with more than 27 years of spa industry experience and more than twelve years of training and training management experience. She travels around the globe with her training and expertise, helping to raise the bar in the spa industry and to open the door to all people, regardless of skin type or health condition. To learn more about this topic and many other skin challenges, diseases, and symptoms, check out Mórag's book, Health Challenged Skin: The Estheticians' Desk Reference.

ASCP Member Discount
ASCP Members receive 30% off Health Challenged Skin: The Estheticians' Desk Reference. Click the link here to access your exclusive discount!