SKIN FLUSHING IN RELATION TO ALCOHOL ABUSE, HYPERTHYROIDISM, AND PARKINSON'S DISEASE
Flushing occurs because the blood vessels in the skin dilate. When flushing is produced by the activity of the nerves to the blood vessels, it is accompanied by sweating. Causes of flushing may be cause from alcohol abuse, hyperthyroidism, and other health issues.
ALCOHOL ABUSE: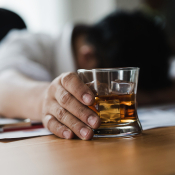 One of the earliest signs of alcohol abuse is a persistent red face due to enlarged blood vessels (telangiectasia). This appears because regulation of vascular control in the brain fails with sustained alcohol consumption. Transient flushing is also a common side effect of alcohol, particularly in heavy drinkers. It is due to acetaldehyde, the main byproduct of alcohol. Acetaldehyde is thought to cause flushing by stimulating release of histamine.
Up to 40 percent of northeastern Asians experience flushing and an elevated heart rate after drinking even minimal amounts of alcohol, due to accumulation of acetaldehyde. This is because of a mutation in acetaldehyde dehydrogenase (ALDH2), the enzyme that converts acetaldehyde to acetate. Tyramine or histamine in fermented alcoholic beverages (beer, sherry, wine) may induce flushing.
HYPERTHYROIDISM: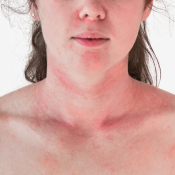 Clinical features of hyperthyroidism result in an increase in the body's metabolic rate, which is characterised by flushing of the face and hands, smooth, moist and warm skin, generalised itching (pruritus) and urticaria. Increased blood flow in the skin along with peripheral vasodilatation may be responsible for facial flushing. (1)

PARKINSON'S DISEASE: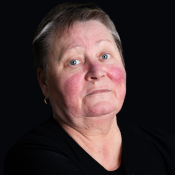 Rosacea, a chronic skin condition that causes marked redness (flushing) in the face, may be linked to an increased risk for Parkinson's disease. In a 2001 study of 70 patients with Parkinson's disease, researchers observed that 18.6 percent of the population had rosacea and that 31.4 percent of participants had facial flushing associated with temperature changes. More research is to be done to determine this increased risk. (2)
SPA MANAGEMENT:
What is the cause of flushing with your client?

Determine any medications; contraindications and cautions before proceeding with any spa treatment.
Treatments that can be offered:
Electrodessication—telangiecstasia
IPL, laser—telangiecstasia
Soothing and hydrating facials, sun protection—diffused redness
Remedial camouflage—appearance
DISCLAIMER: Work within the scope of your license/certification.
SOURCES:
About the Author
Mórag Currin is a highly sought-after esthetic educator with more than 27 years of spa industry experience and more than twelve years of training and training management experience. She travels around the globe with her training and expertise, helping to raise the bar in the spa industry and to open the door to all people, regardless of skin type or health condition. To learn more about this topic and many other skin challenges, diseases, and symptoms, check out Mórag's book, Health Challenged Skin: The Estheticians' Desk Reference.

ASCP Member Discount
ASCP Members receive 30% off Health Challenged Skin: The Estheticians' Desk Reference. Click the link here to access your exclusive discount!