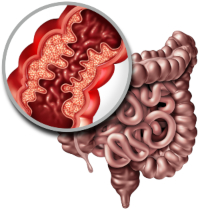 Crohn's disease is an inflammatory bowel disease that involves inflammation of the small intestine. This can cause pain, fever, constipation, diarrhoea and weight loss. Extra-intestinal features are common in Crohn's disease and include arthritis, skin problems, inflammation in the eyes or mouth, gallstones and kidney stones.
Skin involvement or cutaneous Crohn's disease occurs in about 40% of patients with Crohn's disease.
SPA MANAGEMENT
What is the cause of swelling in your client?
Genital swelling in Crohn's disease is due to Crohn granulomas blocking the lymph vessels. This is known as granulomatous lymphangiopathy or lymphedema. Females commonly present with swelling of the labia on one or both sides. Males less commonly develop swelling of the penis and scrotum. The lymphedema tends to get more severe with each flare-up, resulting in distortion of the normal anatomy of the genitals. It can persist long term.
Determine any medications; contraindications and cautions before proceeding with any spa treatment.
Treatments that can be offered:
Complete cleaning and sanitizing of the skin
Manual lymph drainage
Use of special compression bandages and pumps that inflate and deflate on a timed cycle, helping pump lymph through vessels and preventing fluid buildup.
Physical exercise
Be aware of swelling in the genital area when performing hair removal services as you and/or your client may not realise swelling is present. Certain salon/spa treatments can be contra-indicated where lymphedema is present.
DISCLAIMER: Work within the scope of your license/certification.
About the Author
Mórag Currin is a highly sought-after esthetic educator with more than 27 years of spa industry experience and more than twelve years of training and training management experience. She travels around the globe with her training and expertise, helping to raise the bar in the spa industry and to open the door to all people, regardless of skin type or health condition. To learn more about this topic and many other skin challenges, diseases, and symptoms, check out Mórag's book, Health Challenged Skin: The Estheticians' Desk Reference.

ASCP Member Discount
ASCP Members receive 30% off Health Challenged Skin: The Estheticians' Desk Reference. Click the link here to access your exclusive discount!