Our hands are our most valuable tools—and our moneymakers. Our hands are already exposed to irritants just by the nature of our work. Now with the additional cleaning protocols and sterilization products in the mix, hands may become dry, cracked, and if not protected, can cause or reinstate skin sensitivities.
Prevention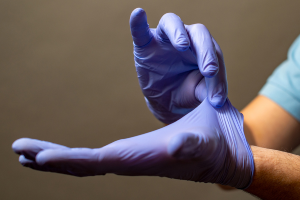 Now more than ever, wearing gloves is the best way to prevent the frustrating (and even painful) skin issues you may encounter, such as dry or cracked skin, flakiness, or contact dermatitis. The irritating chemicals, plus physical irritants like hot air, cause skin to have reactions and even age prematurely.
It's time to get those gloves back on and follow the best practices.
• Wear only on dry skin.
• Select the correct size that fits your hands without being too tight or too loose.
• Cover the wrist to prevent splash inside the glove. Some stylists choose to source a longer/taller glove.
• Dispose of them after every client and every cleaning.
Don't neglect your gloves either. "Look at the label and see if they're skin-friendly," Holly L. Schippers, a leading nail professional of FingerNailFixer says. "Look for ones that are nonirritating and that use accelerated hydrogen peroxide (AHP)."
Optimize Your Skin Barrier Function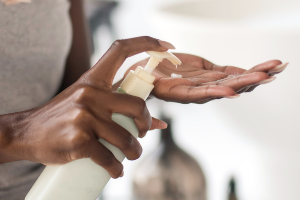 The skin on your hands needs a regimen to keep it healthy and beautiful—or to restore it to its former glory. "Aim to apply lotion 2-3 times per day, and definitely before you go to bed," says Lezlie McConnel, co-founder of Light Elegance, a professional nail products brand. "Even adding a few drops of cuticle oil to the lotion will seal in hydration throughout the day."
For anyone with cracking hands and rough skin, Schippers' best recommendation is a foot cream or lotion for eczema. Most hand creams are not designed for the things you put your hands through, and knuckles can look like dry cracked heels! A thick cream like Barefoot Scientist High Dive Lotion, that is formulated to relieve in the driest, most cracked and hardened skin with 15 of the most potent hydrating agents, is a non-greasy, dry-glide option. Apply at night before bedtime and let it penetrate while you sleep.
Protect Your Nails and Cuticles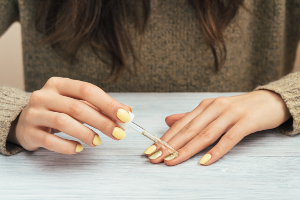 Just as important as the hands themselves, protecting your nails and cuticles with products that maintain the integrity of the nails and cuticles will go a long way in keeping your prized assets stunning. Just like hair, nails are made of keratin, so all that advice you hand out about conditioning hair after washing also applies to nails. Use a quality cuticle oil like LEpro Cuticle Oil 2–3 times a day to condition the nails and surrounding skin.
If your nails are peeling, they need protection. For only a little support, a clear top coat like Super Shiny Top Coat (which is also stain-resistant), will help hide chips and improve the appearance of the nail. If you need a stronger option to protect peeling or splitting nails, look to Famous Names IBX Boost, which adds strength and maintains the integrity of the nail.
Taking a few extra minutes each day to protect your hands will have huge benefits. Not only will they look and feel better, but may also prevent them from being sensitized over time or contracting more serious conditions that could cause discomfort or even worse, make you have to put your scissors down for good. As professionals, you have access to the best products available for skin and nails, so find what you love and works for you and share it with us on Instagram at @buzzbeautehive. We love to know what solutions you have found and products you love!
At Buzz Beauté, we have seen dozens of businesses find success through online retail and we want you to as well.
Reach out to us at info@buzzbeaute.com or follow us at buzzbeautehive on Instagram. We would love to hear how you are doing!