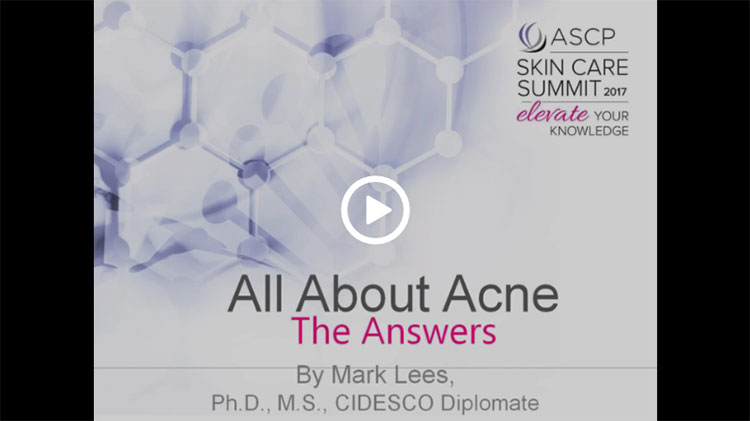 Acne is one of the most common reasons clients see estheticians—and it can often be the most confusing to understand. From the causes to the corrections, acne is a complex condition that requires skill, experience, and knowledge to master. We've invited Dr. Mark Lees to the ASCP Skin Care Summit to address some of the most challenging acne issues estheticians face today.
Dr. Mark Lees is an award-winning speaker and product developer, and has been practicing clinical skin care for more than 20 years. His professional awards are numerous, and his work can be seen throughout consumer publications as well as trade magazines like ASCP Skin Deep magazine, where Dr. Lees is a valued columnist. He has authored several popular books, and is a science contributor to Milady's Comprehensive Training for Estheticians textbook. Dr. Lees holds a PhD in Health Sciences, a Master of Science in Health, and a CIDESCO International Diploma.
Video not playing?
If the video is no longer available, it has been archived in our members-only video education library. This is just a small taste of one of the many online educational videos ASCP members have on-demand access to 24/7. ASCP's videos are designed to provide top-notch education and support to licensed estheticians across the country. Not an ASCP member yet?