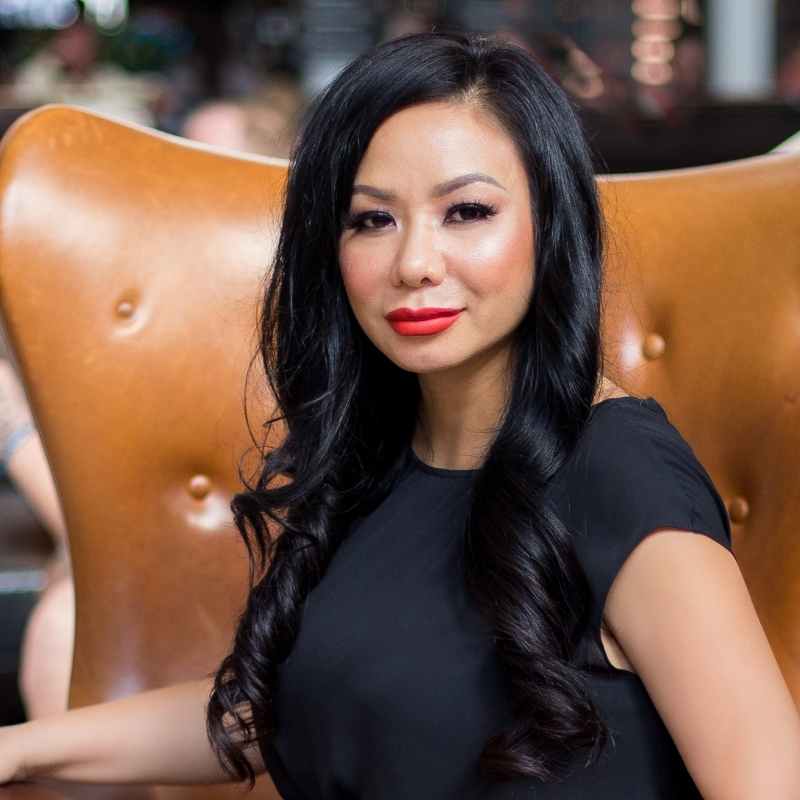 What is the difference between "100% organic," "organic," and "made with organic ingredients"? Is there even a difference? Learn what full-chain traceability means and how CBD (and CBD-infused products) can, in fact, qualify as "organic." In this episode of ASCP Esty Talk, we explore the stringent world of cannabis compliance and gain an understanding of how CBD makes its way through many checkpoints, starting from field to face; what exactly the USDA oversees when it comes to skin care; and what commonly seen terms like cGMP mean. Join us for a very educational session with the well-known and respected compliance connoisseur Thuy Vu.
Author Bio:
About Thuy Vu:
Thuy founded Thuy Vu Consulting LLC in 2016 and offers consulting services for food, dietary supplement, cosmetic, and cannabis operations specializing in compliance, food safety and foodborne illnesses/outbreak investigations, public health, process control, full-chain traceability, QAQC, product testing, product specification, product labeling, cGMP, HACCP, ISO Accreditation, Organic Certification, Kosher Certification, fire and building codes, occupational health and safety, regulatory engagement, and environmental stewardship.
Thuy also serves as the Director of Operations, Regulatory Affairs & Business Development for Hammer Enterprises LLC, one of the largest vertically integrated, ISO 9001:2015 accredited, USDA Organic Certified, Non-GMO, Kosher industrial hemp companies in Colorado and is the first and only cannabis company to be awarded the Colorado Department of Public Health and Environment's (CDPHE) Environmental Leadership Program (ELP) Achievement Award since 2018.
Connect with Thuy Vu:
Email: thuy@thuyvuconsuting.com
Phone: 720-634-5534
Website: www.thuyvuco.com
Facebook: www.facebook.com/ThuyVuLLC
Instagram: www.instagram.com/thuyvuco
LinkedIn: www.linkedin.com/in/thuy-vu-2045a364
About Ella Cressman:
Ella Cressman is a licensed esthetician, certified organic formulator, business owner, and absolute ingredient junkie! As an educator, she enjoys empowering other estheticians and industry professionals to understand skin care from an ingredient standpoint rather than a product-specific view.
She has spent many hours researching ingredients, understanding how and where they are sourced, as well as phytochemistry, histological access, and complementary compounds for intentional skin benefits. In addition to running a skin care practice, Cressman founded a comprehensive consulting group, the HHP Collective, and has consulted for several skin care lines, including several successful CBD brands.
Connect with Ella Cressman:
Website: www.ellacress.com
Website: www.hhpcollective.com
Facebook: www.facebook.com/HHP-Collective-105204177682777/
Instagram: www.instagram.com/hhpcollective
LinkedIn: www.linkedin.com/in/ella-cressman-62aa46a
About our Sponsor: Antedotum
Antedotum founder Karina Perez Marconi was raised on the island of Puerto Rico (born to a Cuban dad and Puerto Rican mom), which meant consistent sun exposure from an early age—and cumulative sun damage for the Latina's olive skin. For decades, Marconi was plagued by dark spots, which were compounded by lingering, postpartum melasma after the birth of her daughter, Havana. Working for many years in beauty at Chanel's New York headquarters deepened Marconi's understanding of premium skin care. But finding an antidote to her skin aliments remained elusive. When the family relocated to Aspen, Colorado, the unforgiving mountain climate of dry air, high altitude, wind, sun, and cold only intensified her skin conditions. 

Colorado is where Marconi took her curiosity of CBD and its purported curative abilities and started to sample an assortment of oils and balms. None of them smelled or looked great, but to her surprise, her skin started to transform. This unexpected discovery evolved into Antedotum.
Visit: www.antedotum.com
As seen on The Today Show: https://www.youtube.com/watch?v=xNcCuQE1Qjc
Instagram: www.instagram.com/ANTEDOTUM
LinkedIn: www.linkedin.com/company/antedotum
About our Sponsor: Purafil
Purafil, established in 1969, is proud to protect people, processes, and environments worldwide. We manufacture revolutionary products that set the standards in our industry. Our focus is to create the world's best air purification products to make your life and business better. We are dedicated to making the world safer, healthier, and more productive.
Web: www.purafil.com
Facebook: www.facebook.com/purafil.inc
Instagram: www.instagram.com/purafil_inc
YouTube: www.youtube.com/channel/UC9JUjV7fgdjr1GTf-3jbahQ
LinkedIn: www.linkedin.com/company/purafil-inc./mycompany
Email: Seth.wyatt@filtrationgroup.com
Phone: 330-328-8431
About our Sponsor: LAMPROBE
The popular and revolutionary LAMPROBE utilizes radio and high-frequency technology to treat a wide variety of Minor Skin Irregularities™ (MSI)—non-invasively—with instantaneous results. Common conditions treated by the LAMPROBE include: vascular MSI, such as cherry angiomas; dilated capillaries; sebaceous MSI, including cholesterol deposits and milia; and hyperkerantinized MSI, such as keratoses and skin tags.
The LAMPROBE uniquely assists modern, capable, and skilled skin care practitioners to do their work more effectively and with greater client and professional satisfaction. Setting standards in quality, education, and training, the LAMPROBE has become an essential tool enabling skin care practitioners around the world to offer new revenue-enhancing and highly in-demand services.
Website: www.lamprobe.com
Email: info@lamskin.com
Phone: 877-760-2722
Instagram: www.instagram.com/lamprobe
Facebook: www.facebook.com/theLAMPROBE
About Associated Skin Care Professionals (ASCP):
Associated Skin Care Professionals (ASCP) is the nation's largest association for skin care professionals and your ONLY all-inclusive source for professional liability insurance, education, community, and career support. For estheticians at every stage of the journey, ASCP is your essential partner. Get in touch with us today if you have any questions or would like to join and become an ASCP member.
Connect with ASCP:
Website: www.ascpskincare.com
Email: getconnected@ascpskincare.com
Phone: 800-789-0411
Facebook: www.facebook.com/ASCPskincare
Instagram: www.instagram.com/ascpskincare
0:00:00.2 Speaker 1: Antedotum is a dermatologist and esthetician-approved CBD skincare brand that is featured in some of the countries most prestigious day spas and integrated by estheticians into their services, creating a must-have for their clients daily skin regimen. The company's proprietary formulas are 100% clean, plant-based, responsibly sourced in the USA, never animal tested, and features its own potent 500-milligram full spectrum CBD complex. As the only CBD skincare brand with a medical advisory board comprised of dermatologists, researchers, Antedotum is undertaking the ground-breaking efficacy of the Antedotum CBD complex as a skincare ingredient. Antedotum products are multi-functional and multi-correctional made for all skin types and sensitive skin. Use them alone or combine them into your routine.
0:00:47.5 Ella Cressman: This podcast episode is sponsored by LAMPROBE. LAMPROBE is a popular and revolutionary device that enables skincare practitioners to successfully treat a wide variety of minor skincare irregularities, such as clogged pores, cholesterol deposits, dilated capillaries, skin tags, and many more common skin conditions. LAMPROBE treatments are non-invasive and deliver immediate results. The LAMPROBE can expand your standard service menu with new and highly in-demand services. For more information, visit lamprobe.com. Follow @lamprobe on social media, that's L-A-M-P-R-O-B-E, or call 877-760-2722.
0:01:36.5 S1: You've trained your staff, set up hands-sanitizing stations, and provided surface wipes. Now it's time to complete your infection prevention protocol today by effectively cleaning the air and providing peace of mind to your clients. Purafil technology removes harmful airborne contaminants and odors from sensitive environments around the world. They are trusted to protect IVF clinics, hospitals, salons, and even the priceless art in the Sistine Chapel. The PuraShield 500 is engineered with a multi-stage filtration system that removes 99.999% of aerosols carrying viruses and can clean the air every 10 minutes in an average-sized esthetician's environment, patented by Purafil, a market leader in air filtration for over 50 years. Visit purafil.com and check out their indoor air quality equipment to learn more, and log on to ascpskincare.com to view your exclusive membership discounts.
[music]
0:02:31.0 EC: You are listening to ASCP Esty Talk, where we share insider tips, industry resources, and education for estheticians at every stage of the journey. Let's talk 'cause ASCP knows, it's all about you. Hello, and welcome to ASCP Esty Talk, the ingredient decked-out series where we explore the fascinating world of ingredients and how they affect the skin. I'm Ella Cressman, licensed esthetician, certified organic formulator, pun intended, well, pun unintended, but we'll get to that. And I'm also the owner of the HHP Collective and complete ingredient junkie. As we continue our month of celebrating cannabis, we are going to broach an exciting topic, compliance. The Farm Bill of 2014 opened door just a smidgen and began the development of cannabis-infused products. When I say cannabis, I mean industrial hemp qualifying products, which we use now. But in 2018 legal clarifications at a federal level saw a huge rush of CBD-infused products everywhere, and we saw so many different products and product lines coming to us. In that, we saw a legal landscape of cannabis change for both marijuana and hemp, and we know that compliance is a key factor for most companies. But what does it mean when a product line says they have certified organic hemp versus organically grown hemp, for example? What questions should you ask?
0:04:04.7 EC: Today, we're going to talk compliance with Thuy Vu, who is well-known in the cannabis industry, some with fear and some with excitement, and we're going to talk about compliance. Thuy founded Thuy Vu Consulting in 2016 and offers consulting services for food, dietary supplement, cosmetic and cannabis operations specializing in compliance, food safety, foodborne illnesses, outbreak investigations, public health, process control, full-chain traceability, QA/QC, product testing, product specification, product labeling, CGMP, HACCP, ISO, all the other things. And one of them... There are so many things that we can go on and on with your amazing qualifications, including the fact that you are leading the cannabis sub-committee for the Association of Food and Drug officials to help develop guidance for best practices for the industry and regulatory agencies, but that's not the beginning of your cannabis compliance. You've been working with the State of Colorado who has been a leader in hemp cannabis, not just hemp, but in marijuana. So you've done a lot.
0:05:16.7 Thuy Vu: Yes, I have. I started my career really in food safety at the Denver Department of Public Health and Environment back in 2010, and when marijuana was legalized in Colorado, Denver was the only county that actually took a hold of regulating anything that was an infused product. So anything that was a marijuana-infused product, if you were producing something for consumption and it was an infused product, we would inspect the facility to ensure that they were following good manufacturing practices. And at that point in time, I had no idea about marijuana or any of the extractions or any of the products that were produced. I didn't even understand the culture or even the language, and it was one of those things that was so foreign to me, because my background is microbiology and pathogenic microorganisms and food safety, and that's where my love was. And then for something like marijuana to become legalized during my lifetime, I had no clue what it was, but I am a forever student and I constantly want to learn, and the fact that I had to potentially regulate this new industry and at that point in time, it was really more a matter of, "Well, let's just see where it leads us,".
0:06:45.8 TV: Because I don't think any of the regulatory agencies or even the state at that point in time knew what this was going to evolve into, and how we were going to manage it and how we are going to regulate it, and what sort of products would come out of the industry. I just knew in my heart of hearts that I needed to understand the industry in order to fairly assess it and regulate it for consumer safety, that was my end goal, to understand the processes, to understand the products, to understand the language. And I keep coming back to language because it truly was a foreign language to me, where there were descriptors and terminology where I had no understanding of what it meant. And I would ask, "But what does this mean? Okay, you said this, what is that exactly? And how do you do that, and how do you make that?" And it was a huge learning curve for me, but like I said, I love learning, and I spent a lot of time outside of my regular work hours as a government employee, you work your 40 hours and then you go home. Most of the time you don't take your work home with you, but I'm kind of an over-achiever and wanted to do a good job, so I was constantly spending time with operators outside of regular business hours just to learn.
0:08:04.5 TV: And I would just sit there and say, "Let me watch you. Can you explain to me what you're doing and why you're doing that?" And I would watch all of these YouTube videos about cannabis and again, completely different lifestyle and culture where I was like, "I didn't know this world existed." [chuckle] I mean, I did to a degree but really, really had no understanding, no comprehension of it. So that's where it started. And because there were no regulations for these types of commodities and no understanding of the processes that were used in order to produce these ingredients as well as commodities and infused products, it was a little bit scary 'cause I didn't wanna have a misstep, but in the end, I knew that I had to utilize my background and my knowledge and just interpret, I guess, I would interpret regulations and apply it to the industry based off of my background and my knowledge.
0:09:08.3 EC: I think that is interesting, I know that you mentioned a couple of things, one is public safety, and you have a very high standard, I guess we could say, because you have a very endearing nickname in this space...
0:09:23.2 TV: Oh, what is my nickname in this space?
0:09:25.3 EC: The Black Widow.
0:09:26.3 TV: Oh my gosh, yes. Yeah.
0:09:27.7 EC: Yeah, because you have a high standard, you hold people, not people, you hold companies to a high standard because of the goal of keeping the public safe, so it's honorable that you would look outside of that 40 hours, that clock punching to make sure that you understood it correctly, it was responsible not just for the general public, but also responsible for companies that were in that, you know, we hear that term a lot, The Wild Wild West, right? The Wild Wild West, and navigating and pioneering, but who set the tone and set the stage for companies to follow to make sure that this... Cannabis is scary to a lot of people. You say cannabis... I was having a conversation this week and they're like, "Oh, that's illegal." And understanding why that is so now that we have these sliver of doors just kind of barely opening in 2010, like you were talking about, it was important, it's imperative at that time, that the industry, we'll just call it the industry, minded their peace and cues, so that there wasn't a problem. So I feel that compliance is a huge thing, because then after the marijuana, first medical then recreational here in Colorado, which was Colorado was a model to a lot of other states, but then we had hemp. So how did things change with... I mean, did you have to then study even further with that transition from marijuana to hemp?
0:10:48.0 TV: Not at all. I mean, really, a lot of people would think that it was very different, but it truly isn't. Yes, very similar technologies are adopted for both types of plants and products, the cultivation may be a little bit different dependent upon whether or not you are cultivating an indoor facility or an outdoor facility. But in the end, it's all the same plant. It just has a different cannabinoid profile, and a different terpene profile. Right? It's Cannabis Sativa. That's the genus. It's exactly the same. The only difference between marijuana and hemp is the THC content, which was arbitrarily assigned at 0.3% THC on a dry weight basis, so anything above that would be considered marijuana, anything below that would be considered industrial hemp. At this point, the definition still stands. However, there are nuances now that hemp is legal, and there are many hemp programs across the nation where, yes, the definition and the standard of identity for industrial hemp is still 0.3% THC on a dry weight basis; however, How do you apply that, when you're talking about a concentrate, which could potentially be a raw ingredient or an intermediate ingredient in the processing and the flow chart of producing other infused products.
0:12:20.4 TV: So that we know that that percentage is going to exceed the 0.3%, because as you extract, you will concentrate everything in that plant and it will exceed that threshold. However, the finished products and just to bring it full circle, the finished product still has to come back at less than 0.3% THC to deem it legal and a hemp product.
0:12:44.8 EC: Compliant.
0:12:45.5 TV: Complaint, yeah.
0:12:46.8 EC: So the state and federal compliance were like the State of Colorado and then the federal, like regulations. Were they pretty sim... Like, not a big difference then? Besides that.
0:12:58.0 TV: Sure. It depends on what you're talking about. If you're talking about the definition, sure. It's basically the same. If you're talking about the allowances of the different products that are produced, every single state is going to vary. From the hemp perspective, even though the 2018 Farm Bill did open up legalization of hemp nationwide, every single state still has to have either a hemp program or submit a state plan, a state hemp plan, to the USDA for approval or opt to follow the USDA, the final roles for a hemp program.
0:13:39.3 EC: Yeah. And Utah's hemp program is a lot different from Colorado's, I noticed, and so in order to sell hemp, hemp-infused products in Utah, you have to submit for acceptance of the final product, and it comes with a lot of things. So that was one surprise, 'cause in Colorado, it's the Department of Public Health and Environment that oversees hemp. It's interesting how state, federally legal but state regulated, isn't the same.
[chuckle]
0:14:06.3 TV: Federally legal, yes. But all states have to have their own program. And it's interesting, just and not specific to hemp, but just in agriculture and in food and cosmetics, if you think about the different regulatory agencies that oversee different commodities or different programs, it varies from state to state. So here in Colorado, we're unique in the sense that we have a Colorado Department of Agriculture who regulates cultivation, agriculture. Anything post-processing is going to be regulated by the Colorado Department of Public Health and Environment. Now, in Utah, or in other states, it might be the Department of Agriculture that houses and oversees both the agriculture and cultivation as well as the processing, manufacturing, and they're just two separate divisions or they could be one, so it depends. Every single state is a little bit different, so there are nuances in that respect where it could be confusing to someone who may operate in one state and they understand the regulatory infrastructure for their specific state, but once you start looking outside of your state, you understand that there are those differences and there are different regulations that apply, there are different requirements in order to be an approved source, and also to qualify for these products to be in commerce, so a lot of different testing requirements.
0:15:41.0 EC: So back when things started, I say things, but when companies started introducing products in the grayer area of 2014-2018, we saw a lot of natural "natural"... Finger quotes, air quotes, natural products into the market. This is a natural product plant medicine, you would assume that those would be qualifications. They are using marketing language, organically grown hemp, because the justification with using those kind of terms was that there was no federal certification to certify hemp as organic, therefore products couldn't be certified organic. But that's not the case now. That is no longer the case. Is that right?
0:16:21.4 TV: That is correct, and I think back then, I think a lot of agencies were still hesitant to certify federally a program that they weren't really sure whether or not it would be considered a legal commodity or not. And is it hemp? Is it marijuana? How do we distinguish that? So, and a lot of federal programs or programs that receive federal funding and federal grant money cannot be a part of anything that may potentially be an illicit drug or an illegal product. So, I think people were, in agencies and organizations, were trying to read between the lines and determine, "What are our liabilities if we participate in this, and can we truly certify this product as organic?" And as we all know, USDA is the agency that oversees the organic program. They have a national organic program where all different types of products, regardless of what it is, can be certified organic, and there are rules that manufacturers have to comply with in order to meet those regulations, and there's an annual certification that is required to maintain your organic status and your organic certification. So one thing that a lot of people don't know is, you can always check on the organic status of any sort of company in any commodity or any product, assuming of course, they've been certified with USDA on their National Organic Integrity Database.
0:18:16.4 TV: So I usually just Google N-O-P-O-I-D, and that will take you to the USDA Organic Integrity Database and you can search any product, any commodity. Now, bear in mind that there are lots of companies such as Hammer Enterprises, where I'm the Director of Operations for Regulatory Affairs and Business Development, where we are listed and we are a custom white label manufacturer for hemp, and hemp products, hemp ingredients, hemp derivatives, and custom white label products. Even though we are a certified organic company and certified organic farm, and we do certify a lot of our clients, you may not find our clients listed under our profile because it's one of those things where not everybody wants to show their cards, so to speak, they don't wanna give you the secret in the secret sauce, right? They don't wanna say, "Okay, yeah, Hammer is the company that manufactures my product that is selling so well." So a lot of times, their companies may not necessarily be listed on the Organic Integrity database.
0:19:29.7 TV: However, if you can always look at their label and you can determine who is the certifying body that certified this product, so directly underneath the distributor information or the brand owner information which should be on the right side of the label, you'll see the distributor name and the address, and directly underneath that, it will tell you who the certifying body is. So for instance, Hammer Enterprises is certified by OneCert. And so any products that we produce, our Hammer brands, for instance, Revivid is one of our Hammer brands, and any products that we have that have the Revivid label, you can see our contact information, our address, and directly underneath it says, certified organic by OneCert. And if anybody ever questioned whether or not that product was truly certified organic, they can reach out to OneCert and ask. Any customer, anybody off the street, you can verify, you can call that certifying body and inquire, "Is this product that I purchased with this label organic, and is it certified, and is it correct, do they have a current certification?"
0:20:39.4 EC: Oh I have so many questions.
0:20:41.0 TV: Yes.
[laughter]
0:20:42.0 EC: Okay. In order to be certified organic, to have a certified organic product, there are steps that need to be taken along the way, right? So you can't just go, I mean, all of the ingredients has to be certified, but also the lab?
0:20:58.3 TV: When you say the lab, are you talking about the manufacturer?
0:21:01.4 EC: The manufacturing facility?
0:21:02.6 TV: Correct, correct. Every step of the way, every ingredient, as a part of organic certifications, they want full chain traceability. That is why it is so important to know your source and to know your manufacturer and to have those relationships and to fully comprehend what is their process flowchart as to how this product is manufactured, although you can't divulge any sort of IP and we can't tell you everything, but we can say, "Look, we have been certified," the certifying body comes in to audit us every single year, whenever there's any changes to any processes or operations that we do, we have to submit to the Certified body. We don't submit our SOPs, but we do submit a flowchart to indicate the process flow, and we submit a list of equipment, a list of, if there are any additives, if there are any products that may come in contact, even cleaning solutions. So if you are using a sanitizer and that sanitizer is not organically certified or organic compliant or on the approved list, then that makes that product non-organic.
0:22:25.0 TV: And it goes all the way down to even the filter paper. If you have a filter, and there's filter paper that's used, we have to get the specifications for that filter paper to ensure that it's not made of chemicals that may be on the prohibited list, so every single little thing that may touch this organic product, we have to verify it and we have to submit it for approval. So it's not just the farm, it's everything that happens from the time that it's grown and propagated to the time that it's harvested, extracted, refined, whatever it is, all the way down to the finished product. And that includes the label.
0:23:10.0 EC: Even the filter? And the label?
0:23:12.5 TV: And the label, and the label. I conduct label compliance prior to submitting it to our certifying body, and just to ensure that it encompasses all the minimum labeling requirements for that type of product, whether it be a cosmetic or personal care item, whether it be an infused product, or even an animal product, a pet product, any products that we manufacture, and if they want to use the USDA seal and the certified organic by OneCert or whatever certifying body, if they want to use that on their label, they have to submit the label to me, for me to review all the pertinent information, make sure that it's correct, and it has all the required information in the correct placement, because if you place it in the wrong area, they will make you change it and when I said they...
0:24:05.0 EC: That's why I say to the right, on the way.
0:24:06.6 TV: Yeah, yeah, yeah. So there's different labeling requirements, and then after I review it, and there might be several iterations where I say, "Okay, make sure you change this, make sure you do this," and then I submit it to our certifying body to review not only the label, but the formulation and all the ingredients that go into that formulation, and they verify that all of the ingredients and the processes that I'm submitting have been previously approved, and if it's an ingredient where they aren't aware or they don't understand or they haven't approved that ingredient and that process to make that ingredient, then it's a few steps backwards where they say, "Hey, Thuy, we need for you to submit your process flow for say, the production of your organic distilled terpenes, we don't have that yet, so we need you to submit a flowchart for that along with any sort of solvents, ingredients, equipment, everything that you do to make this commodity, to add it as an ingredient into this organic tincher."
0:25:10.6 EC: And so this is the same for any kind of hemp-infused, but also for any kind of cosmetic products that are sort of... That is certified organic?
0:25:16.4 TV: Any product, period. Any product.
0:25:20.3 EC: Do manufacturers get around it by saying, "It's okay." If I have certified organic wheat used in the cereal, for example, you cannot use that seal 'cause it has to be the whole product, right?
0:25:34.2 TV: So there are four levels of organic. The first one is 100% organic, where every single part of that product, whether it be a preservative, whether it be an ingredient, it has to be 100% organic. Now, that includes organic compliant ingredients as well. You also have organic ingredients, where it has to be a minimum of 95% organic ingredients and it cannot contain any sort of prohibited ingredients or substances, to ensure that it doesn't impact the integrity of that organic product. For that product, you can actually use the organic seal, you can list the organic ingredients in the ingredient list, and then you would have to list the certifying body that certified this product. Now, this is the same requirement for the 100% organic as well, so only 100% organic and organic products are allowed to use the USDA Organic seal on the front.
0:26:43.3 EC: On the right-hand side.
0:26:45.1 TV: Well, the USDA seal can appear anywhere, but there's certain information that does need to appear on the right-hand side of the primary display label, or the primary display panel, and we don't need to get into that 'cause that's just basic labeling guideline requirements. But if you look at labeling requirements, it's broken down fairly simply, so that when a consumer is looking at a product, they know where to look on the label to find the information, and it's not discombobulated and just kind of everywhere, dependent upon what product it is. And so, the third product that you have is made with organic, so that formulation has to be a minimum of 70% organic ingredients, and again, it cannot contain any sort of prohibited substances or ingredients, and you can list up to three organic ingredients or organic categories, so you might see "Made with Organic" on the front. Now, there are instances where maybe you don't meet those requirements, maybe your product is less than 70%, or maybe even your product contains prohibited ingredients or substances, so at that point in time, even though there's no organic certification, you can list your organic ingredients in the ingredient list, by stating "Organic Hemp Extract" or "Organic Hemp seed Oil" or whatever ingredient it is.
0:28:11.6 TV: So really, for the certification, there are only three categories; however, I say there's a total of four, because you can list your organic ingredients, yes, in the ingredients list.
0:28:24.2 EC: Well, Thuy, thank you so much. I'm sure we have other questions for you. And for those who want more, who wanna know more, and wanna know how to reach out to Thuy, we will have her contact information in the show notes, I'm also gonna put a few fun facts in here. But thank you for reminding us not just to trust but to verify. I think that's an important lesson of this podcast. And Thuy, thank you so much for being on. And will you come back?
0:28:50.4 TV: Yes, absolutely. Thank you so much for having me.
0:28:53.6 EC: Well, thank you, Thuy, and thank you for tuning into ASCP Esty Talk, and we look forward to the next podcast.
[music]
0:29:00.3 EC: Thanks for joining us today. If you like what you hear and you want more, subscribe. If you wanna belong to the only all inclusive Association for Estheticians, that includes professional liability insurance, education, industry insights, and an opportunity to spotlight your sick skills, join at ascpskincare.com, only 259 per year for all this goodness. ASCP knows, it's all about you.