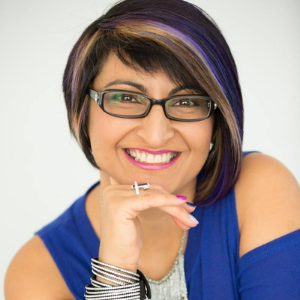 In this episode of the ASCP Esty Talk podcast with Tazeem Jamal, PMDT, LE, we discuss communicating for success and learn that client communication extends beyond the treatment room and into the realm of social media and email marketing.
AUTHOR BIO
With an illustrious career spanning more than three decades, Tazeem Jamal, PMDT, LE, is a highly respected spa industry coach and an award-winning master esthetician. Tazeem is the creator of the "Purple Carpet Experience," the unique framework she uses to help estheticians build their businesses with solid, proven business and marketing strategies. In addition to being an Amazon bestselling co-author, Tazeem has been featured on national TV and radio, and has worked as an ambassador with TEDx. She is an international speaker and a featured educator at Face & Body Conferences.
Most recently, Tazeem was invited to be a coveted ASCP Influencer. She also won the Lipgloss & Aftershave award for "Best Business Education 2020" for her efforts in supporting and inSPAiring estheticians through the early days of the shutdown.
In the spirit of being in service to the spa industry, Tazeem runs a free Facebook group where she offers weekly biz tips and periodically offers free group coaching sessions.
About our Sponsor: Antedotum
Antedotum founder Karina Perez Marconi was raised on the island of Puerto Rico (born to a Cuban dad and Puerto Rican mom), which meant consistent sun exposure from an early age—and cumulative sun damage for the Latina's olive skin. For decades, Marconi was plagued by dark spots, which were compounded by lingering, postpartum melasma after the birth of her daughter, Havana. Working for many years in beauty at Chanel's New York headquarters deepened Marconi's understanding of premium skin care. But finding an antidote to her skin aliments remained elusive. When the family relocated to Aspen, Colorado, the unforgiving mountain climate of dry air, high altitude, wind, sun, and cold only intensified her skin conditions. 

Colorado is where Marconi took her curiosity of CBD and its purported curative abilities and started to sample an assortment of oils and balms. None of them smelled or looked great, but to her surprise, her skin started to transform. This unexpected discovery evolved into Antedotum.
Visit: antedotum.com
As seen on The Today Show: youtu.be/xNcCuQE1Qjc
IG: instagram.com/ANTEDOTUM
LinkedIn: linkedin.com/company/antedotum
About our Sponsor: Purafil
Purafil, established in 1969, is proud to protect people, processes, and environments worldwide. We manufacture revolutionary products that set the standards in our industry. Our focus is to create the world's best air purification products to make your life and business better. We are dedicated to making the world safer, healthier, and more productive.
Web: www.purafil.com  
Facebook: www.facebook.com/purafil.inc  
Instagram: www.instagram.com/purafil_inc  
YouTube: www.youtube.com/channel/UC9JUjV7fgdjr1GTf-3jbahQ  
LinkedIn: www.linkedin.com/company/purafil-inc./mycompany 
Email: Seth.wyatt@filtrationgroup.com
Phone: 330-328-8431
About our Sponsor: Sorella Apothecary
Sorella Apothecary is a professional skin care line that combines the best of modern-day science with natural, old world philosophies. The line is created for the esthetician by the esthetician. Botanically based, the results-driven product line is made for multiple skin types. Every ingredient is hand-picked with a less-is-more approach to deliver the best, most effective results. Sorella Apothecary believes in real results and achieving those results without compromising the skin's integrity. Sorella translates to "sister" in Italian and the brand gets its name from its co-founders, Danielle and Emily, who are sisters by marriage.
Visit www.sorellaapothecary.com for more information and follow us on:
Facebook
Instagram
TikTok
Twitter
About Associated Skin Care Professionals (ASCP):
Associated Skin Care Professionals (ASCP) is the nation's largest association for skin care professionals and your ONLY all-inclusive source for professional liability insurance, education, community, and career support. For estheticians at every stage of the journey, ASCP is your essential partner. Get in touch with us today if you have any questions or would like to join and become an ASCP member.
Connect with ASCP:
Website: www.ascpskincare.com
Email: getconnected@ascpskincare.com
Phone: 800-789-0411
Facebook: www.facebook.com/ASCPskincare
Instagram: www.instagram.com/ascpskincare