posted on: March 27, 2023
Circadia announced the launch of two innovative treatment masks to deliver exceptional results in the treatment room using cutting-edge ingredient technology. Charcoal Milk Clarifying Mask and Circadian Time Balancing Mask with Malachite became available in the US market on March 6.  
Charcoal Milk Clarifying Mask
This product goes on like a traditional mask, but that's where the traditional part ends. Once activated, the charcoal mask visibly transforms into a hydrating milk mask in seconds.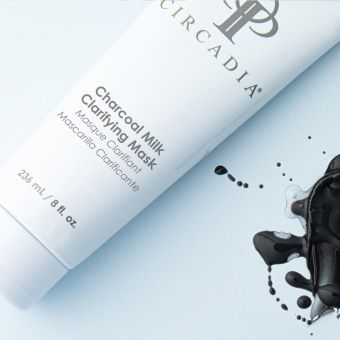 This two-step mask was formulated to detoxify and heal inflamed skin, leaving smooth, calm skin. Bamboo charcoal extract purifies and absorbs excess oil, lactobionic acid gently exfoliates, and olive squalane balances the skin. This mask is ideal for congested, oily, and sensitive skin types. 
Featured Ingredients: 
Bamboo Charcoal: Assists in removing toxins from the skin while reducing bacteria, resulting in a great acne-fighting ingredient.
Kaolin Clay: Absorbs excess sebum and prevents pore clogging, drawing out skin impurities without causing skin irritation.
Lactobionic Acid: A type of polyhydroxy acid (PHA) that has a larger molecular structure than AHAs, resulting in slower penetration and allowing for a gentle exfoliation for compromised skin. It can also hydrate and protect against free-radical damage.
Lactic Acid: Known for pulling triple duty—it can brighten, hydrate, and exfoliate the skin. Lactic acid can also be shuttled into the cell to be used as cellular energy.
Olive Squalane: Decreases transepidermal water loss (TEWL) and enhances the skin's natural barrier.
Sandalwood and Vanilla Essence: Natural aromatic, fragrance-free blend, with added antioxidant and anti-inflammatory benefits.
Circadian Time Balancing Mask with Malachite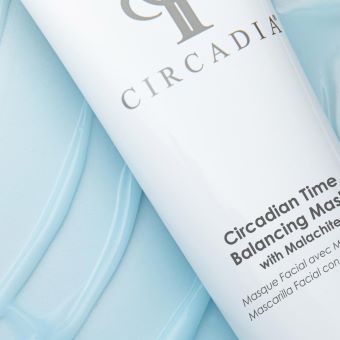 Meet the Circadian Time Balancing Mask with Malachite, a technologically advanced combination of ingredients that bring the best of nature and science into a perfect (circadian) rhythm. This mask is ideal for dull, tired skin susceptible to environmental factors like ultraviolet (UV) rays, blue light, and pollution.
This product goes beyond conventional skin care with an unprecedented ingredient deck that reduces oxidative stress from digital pollution while resynchronizing the skin's circadian rhythms and even harmonizing chakras.
Featured Ingredients:
B-Circadin: Assists in resynchronizing the skin's circadian rhythm and regulating rhythm-dependent biological functions such as aquaporin channels. It also improves rhythm-related detoxification pathway efficiency and reduces oxidative stress from blue light exposure.
Synchronolife: Counteracts the harmful effects of digital pollution that generate stress, signs of fatigue, and premature aging.
Mala'kîte Complex: A protective copper complex that acts as a powerful free radical scavenger, boosts cellular defenses, and protects against environmental damage. Malakite is also believed to balance the heart chakra, opening a pathway for personal growth.
"While Circadia has long been known as a pioneer in ingredient innovation, we are very excited about expanding our product line with the high-tech functionality of these masks," says Michael Pugliese, CEO. "We considered the smallest details in each formulation, and as with all Circadia products, these masks offer science-backed results powered by clean-ingredient technology.
Both masks launched in US markets on March 6, 2023. For professional use only. For more information visit: circadia.com/newmasks
About Circadia: Circadia by Dr. Pugliese is a professional skincare line based on chronobiology, the biology of time. The core of our concept helps the skin by defending from damage during the day and stimulating repair during sleep. Circadia has been a pioneer in bringing the concept of circadian rhythms to the health and wellness industry.