By ASCP Staff
When a client isn't happy about the outcome of their service, whether it's a leg wax, a chemical peel, or a facial, you might feel they are attacking you personally. No matter who is right or wrong, you want to do your best to build and maintain your relationship with your client. When we feel we're being criticized, it's easy to get defensive—but don't let your pride get in the way. If you feel a client is always full of complaints or always has a difficult attitude, maybe you need to reevaluate the relationship. How do you know when you should work harder to save that client or when it's time to move forward and let go? No esthetician wants to deal with constant negativity from the same client, so you need to know what kind of difficult client you're dealing with before you make that decision, and whether it's worth the work to keep them coming back.
The following six types of difficult clients are listed from least to most destructive. If you recognize any of your clients in the list, here are a few tips on how to handle them.
The Diva
They're a keeper. These difficult clients love to try any skin care service you recommend and is game to try new treatments like microneedling or laser hair removal. They want the best, no matter the cost, because they know they're worth it. They book regular appointments, buys lots of retail products, and delights in your compliments. If they like you, you'll have a lifelong customer. They'll tell their entire social circle about you if they're happy. This client can also be condescending and demanding, so be careful. If they're unhappy, they'll trash your business all over town and on social media. Impress them with your expertise and knowledge of ingredients, their skin condition and your recommendations for treatments and home care. If they don't get the results they want from you, they won't be shy about making sure you know it. If you don't pay attention to what they are telling you, you may be in danger of losing them to another esthetician. Keep in mind, they're a sucker for result-oriented products, the latest and greatest services and equipment, and extra pampering.
The Scrooge
Although a little annoying, this one is still worth keeping. This difficult client will wait to book with you when they know you're offering specials on services or retail products. They are stingy about purchasing products, and will only buy when they absolutely have to, even though you try to convince them that they can't get the results they want without the proper at-home skin care regimen. This client may not complain about prices directly to you, but inside they are screaming, "That's too expensive." They are always thinking about getting the most for their dollar. The services and products you recommend must provide this difficult client proven results for them to see the value in their visits and to purchase retail. To make this client happy, reach out and call them with specials you are running and pre-sale notifications. You'll be able to keep them for a while, at least until a cheaper option comes along.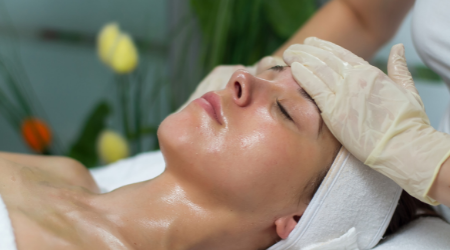 The Complainer
We all know that the tone of voice we use has impact. If the complainer gets upset about anything during their skin care service, it might not be because of the words that were spoken, but more the tone of your voice. If you appear condescending or haughty, a complainer could easily become an Atomic Bomb (described below). Complaints give you an opportunity to better serve your all your clients in the future. Let them talk and try to listen with an open mind. The difficult client may have had a bad day and just wants to vent, even if the complaint is not truly about you or the service. Just being heard may help alleviate their grumbles. If you do happen to be in the wrong, admit it, apologize, fix it, and give them something for free or a discount on their next service. This shows you're making the effort and catering to their inner diva. If you can please this difficult client, then they're a client for life.
The Passive-Aggressive Client
This difficult client is hard to deal with and can be very damaging to your business and reputation. They passively leave your spa after the service, and then aggressively complain afterward. They will never discuss the reasons they're unhappy with you face-to-face, but they may very well criticize you on social media and within their social circle. If they give you a bad review on social media or an online review site, respond professionally and invite this client to come back so you can have the chance to change their mind. This difficult client is a lot of work because they don't communicate with you directly, but they may be worth the trouble. Bad internet reviews last forever, so you want to try to win them over if you can.
The Lukewarm Client
You might be thinking, "How can a lukewarm client be dangerous?" But, beware. This client could be your worst nightmare. When you ask this client how their treatment was, they'll say everything was fine, when in their mind, they are NOT happy. If you're lucky, they just won't come back to you for services, but they could also complain to your manager, refuse to pay for the service, AND give you a horrible review on social media. You always check in with your clients during the entire service and always ask how their experience with you was, but if you get a lukewarm response, don't let it dampen your enthusiasm. You might want to sweeten the deal and give the client a free service upgrade, like a hand massage, a microdermabrasion add-on, or a home care product that will give them immediate results and perhaps a more positive attitude.
The Atomic Bomb
This is your hot mess! They are all six difficult client types rolled into one, and you cringe when this client books a service. This difficult client will never be happy, and it's not just with you. They will have complaints anywhere they go. They are the client that returns a mostly used bottle of your most expensive eye serum months after you sold it to them and wants a full refund. They are the one who frequently doesn't show up for their appointment. At one point, this bomb will explode, and if you handle it badly, they'll spread poison about you and your business to anyone and everyone. If you can manage to placate them, you may be able to keep them as a client—if you really want to!
Firing a Client
Your client might just be going through a tough phase in their personal life that could balance out soon, so you don't want to nonchalantly burn bridges. But the truth is, no amount of money is worth being treated disrespectfully by a difficult client time and time again.
Try to have some empathy for the client before you decide to fire them. You may be able to turn the client's attitude around and see their behavior improve with some TLC. Your caring attitude may be the only bright spot in this client's week. If you decide it's best to part ways, tell them your spa doesn't seem to be a good fit for them, and you're sorry to see them go. You may offer names of other estheticians in the area who might serve their needs better. Then keep a close eye on what's being said about you on social media.
Most of your clients are delightful and you love seeing them, but some may be difficult or even ugly in personality and intentions. Being able to recognize what type of client they are, and using these tips on how to respond, will allow you to make your space a true sanctuary for all clients, with compassion, empathy, and extraordinary service.