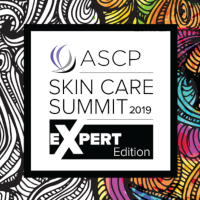 Looking to find your esty edge? Learn how to set your treatments and product recommendations apart from the competition by joining us for the ASCP Skin Care Summit: Expert Edition!
Tune in from the comfort of your computer to watch and interact with industry experts as they present the latest insights in skin care—from the use of human stem cells in skin care treatments to the chemistry behind the most cutting-edge products. These topics were designed with the expert esthetician in mind who wants to advance their career with the knowledge needed to provide real results in today's world.
Here's just one of the informative sessions you'll be a part of during this FREE full day of online learning:

Stop Selling—Painless Tips and Tools to Grow Your Retail Sales

Retailing is much more than selling products—it's about building relationships and trust (and paying your bills!). If you want to know how to be a successful retailer and why retail is so important for building a long, sustainable, and successful business, this presentation is for you. You will learn how to work smarter, not harder; how retailing is a customer service; how to deliver the 4 successful Rs of a 5-star customer service experience with every client; how to make as much in 4 days as you do in 5; and more.


ABOUT THE PRESENTER
Jim Yates is an author, lecturer and expert in change management. He is on the cutting edge of school and salon business development practices and is considered by many owners as a key factor in their business' success. As a former salon chain and prestigious school owner, he is a committed educator who, before starting Nuts and Bolts, devoted his time to the growing day spa business as director of education with the world's largest spa operations company. Yates will show that there are no magic formulas, just good business practices.

Join ASCP as we bring you two FREE days of online expert-level education at our 2019 ASCP Skin Care Summit—EXPERT EDITION on Monday, October 14, 2019 and Monday, October 21, 2019.