Food is the hottest thing to hit beauty this season, and if your makeup palette smells and looks like your favorite breakfast cereal or a sweet doughnut, you're on trend. Were you a Lip Smackers fan? For many, Lip Smackers were your first foray into "makeup." According to Click Americana, Lip Smackers was dubbed the world's first flavored lip balm with basic flavors like cherry and strawberry. In 1975, they expanded into name-brand collaborations by teaming up with some of the biggest candy and soda brands: Dr. Pepper, Orange Crush, and Tootsie Roll, to name a few.
Lip Smackers is not the only cosmetic company to team up with a seemingly opposite or unrelated brand.
Here's just a few of the many companies to do the same:
Hipdot Makeup:

Marshmallow Peeps
Tapatio hot sauce
Reese's

Revolution Makeup and Fruity Pebbles
Sally Hansen and Mentos
ColourPop cosmetics and Halo Top ice cream
Morphe:
Elf Cosmetics:

Chipotle
Dunkin' Doughnuts
The number one cosmetics-food brand on the list is Glamlite.
The company founder suffered years of bullying for her weight and started the cosmetic business to create products made for everyone. This company almost exclusively sells beauty products inspired by the foods the founder loves to eat. Glamlite's first product was a pizza eyeshadow palette.
Their most recent collaboration was with Hershey for a makeup line inspired by Hershey Kisses.
Are these companies simply both influencers playing into each other's followers?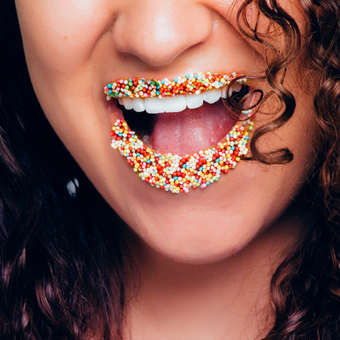 In 2019, Elf cosmetics had the largest ever marketing campaign through TikTok and happened to be the only mass cosmetic company creating on this platform. The only other brand doing the same was Chipotle. The partnership just seemed natural. The two joined forces creating an Elf eyeshadow palette inspired by Chipotle. Chipotle offered free chips and Guac with the palette purchase.
The eccentricity and exclusivity of this partnership drove demand. When the limited-edition palette sold out, consumers called customer service in tears!
Why do these partnerships work?
For many of these partnerships, the companies have similar target markets and target goals. In the example of Elf and Chipotle, they both target the same demographic: young professionals, college students, tweens and teens. A Chipotle-inspired eyeshadow palette is also unexpected and drives demand.
Other companies may partner because they have similar values. For example, they may focus of sustainability and responsibility and offer vegan and cruelty free makeup/vegan food.
Looking for more? Check out ASCP Esty Talk. In episode 119 - Makeup and Food Unite, Maggie and Ella discuss the cosmetic companies who have teamed up with seemingly unrelated brands and why these partnerships work.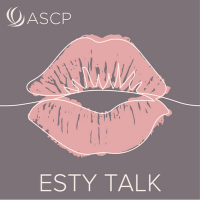 ASCP Esty Talk Podcast
Produced by Associated Skin Care Professionals (ASCP), ASCP Esty Talk and The Rogue Pharmacist is specifically created for estheticians. Where no topic is off limits, we share all kinds of great information on this podcast from ingredients and the science of the skin, to business, and beauty diversity. We hope you come away having learned more about your career, the industry, and maybe even life in general!
Think of our show as a conversation between friends—not too structured, not too formal—sometimes very serious, but always genuine and authentic.
NOTES
https://www.mashed.com/825204/delicious-food-and-beauty-collabs/
https://guiltyeats.com/2022/02/08/glamlite-and-hersheys-teams-up-for-new...
https://www.contentcucumber.com/blog/case-study-on-elf-cosmetics-collabo...