In January 2016, I lost an older sister to thymic carcinoma, a rare and terminal cancer. Two months after the death of my sister, I was diagnosed with Stage 4 neuroendocrine cancer, a rare and uncurable cancer. This would be one of the darkest times in my life. Yet, when you have lived your passion it never leaves you, even though some of your organs might. During my recovery, I was constantly in pursuit of alternative therapies and modalities that could aid in the healing process, not just physically but emotionally. Especially emotionally!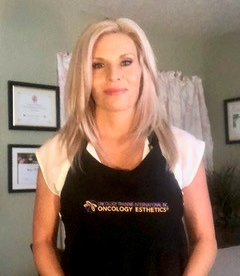 I've been gifted with an amazing family: three sisters (one being my identical twin) and a brother. My identical twin and I have both been in the beauty industry over 20 years. I have always encouraged my children to "do what you love, then it will never be a job!" That's what I had found being part of this industry. My sisters and I often enjoyed quality time together that usually centered around some type of spa or esthetic therapies. Being an esthetician has provided me with opportunity to connect with others and to my family.
Almost a year to the date at my sister's passing, I took a certification course in esthetic oncology in Los Angeles, California. Having an opportunity to bridge my new profound awareness of life and the connection with my passion was the healing I had been searching for. Upon completion of my course, my direction to take this new chapter of life and career was not clear. So, I started at the beginning. I was able to implement a facial therapy program at City of Hope Research Hospital in Duarte, California, where I am currently a patient. Here was my connection to heal! I am able to treat the esthetic concerns of my fellow patients living with and/or having survived cancer. Since then, I have had the privilege to participate in several charitable events hosted by nonprofit organizations providing esthetic therapies designed for patients and survivors.
Esthetic oncology empowers me to advocate and connect with others. Each time I advocate, I am learning to advocate for myself—to learn what self-healing truly means. I see power in touch, connection, and advocacy. I see it every day on this path and in those that walk it with me!
Story of inspiration provided by

Beth Wilbanks DeBlase, LE and owner of Three Sparrows Wellness
Esthetician for 13 years
Practicing oncology skin care for 2 years
LEARN MORE ABOUT ASCP'S ONCOLOGY SKIN CARE MONTH
Check out our blog here to learn more about this amazing event.