My journey and interest in oncology skin care began in 1997 when I was diagnosed with my first breast cancer at the age of 42. Changes in my skin, entering menopause at 42, and the new normal I was trying to navigate became an ongoing struggle. I was going to a breast cancer support group and also had become a Reach to Recovery volunteer with the American Cancer Society where I would call, visit, and support breast cancer patients just entering treatment. I continually found that women had so many questions regarding the personal side of cancer treatment. Our physicians were curing our cancers, but rarely had answers about the side effects we were experiencing. I started searching out resources, began yoga classes (also joined a yoga study for breast cancer survivors on the benefits of yoga), and got into a better routine of walking more. An ongoing rash and skin problems in the area that had been radiated made me more aware of what I was putting on my body. My breast surgeon's office manager was the one who told me to stop using laundry detergent and skin care with fragrance in the area that had been radiated. Back in 1998, there really wasn't a lot of talk about ingredients in our products. My skin that was radiated over 20 years ago still is very fragile and products I use in the area need to be very gentle.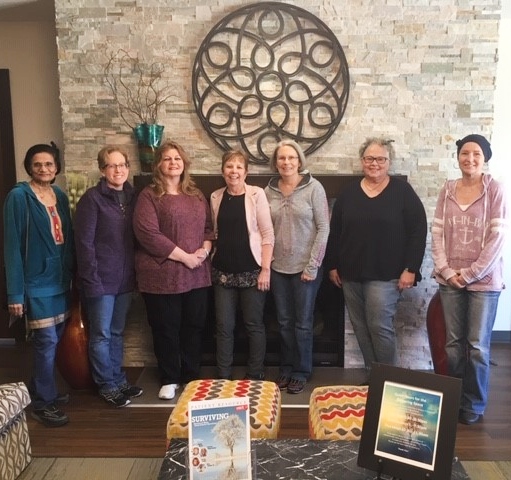 In 2010, when my full-time job went part-time, I took a leap of faith and went to esthetics school at the age of 54 with the intent of focusing on cancer patients, because I felt skin care was overlooked and understudied in cancer care. I was very involved with the cancer center in my area, taking yoga and other fitness classes, so I had a great support system to help guide me that included other integrative therapists, cancer survivors, and the esthetic school I was attending. I took my first oncology training before I even took my state test. Since becoming an esthetician, I have had a second and third cancer, but this has never stopped me from continuing on my mission to inspire, support, and encourage not only my clients but also estheticians on the oncology side of esthetics. In 2011, I started the skin care program at LivingWell Cancer Center, along with Dr. Doran from International Skin Beauty Academy in Schaumburg, Illinois. In 2016, I was contacted by Waterford Place Cancer Resource Center in Aurora, Illinois, to start their skin care program. I continued to work at both cancer centers for about six months, but my focus now is at Waterford Place. In 2018, we designed and implemented a pilot program called "Simply Beautiful" as a result of caring for so many participants who were experiencing complications due to attempting to address cancer treatment-related side effects with products and ingredients that ended up doing more harm than good. Simply Beautiful's program is held once a month with an approach first and foremost promoting healthy skin with safe and effective skin care and makeup products. I also do consultations, facials, and fun, interactive classes like mini spa days. Waterford Place is a non-profit cancer resource center and all services are free of charge to cancer patients and their families. People are in awe when touring Waterford Place and seeing all that is available for cancer patients from mind-body and integrative therapies to nutrition, lectures, and more.
I recently gave a facial to a cancer patient who told me her friend wanted to treat her to a spa day. The spa they went to refused to give a her a facial because they told her it was a contraindication to get a facial during chemotherapy. Though I am happy they did not perform the facial without proper training, I was surprised an esthetician today would think this to be true. But what was even more devastating was when she told me she sat waiting for her friend to have her facial. After telling her sister the story, her sister sought out Waterford Place. She drove a long way for her facial, and after her facial I offered to seek out someone closer. She looked at me with this big smile, a beautiful glow, and a sense of calm and said, "I'll be happy to drive the distance to come back to you." This is why it's so important to reach out to others in the industry—because even if a spa has no interest in becoming oncology trained, they should at least know where to send their clients for services. We love hosting Oncology Spa Solutions' training for estheticians and hope more cancer centers and spas understand the high standards needed for therapists who are working on cancer patients. Becky Kuehn, founder of Oncology Spa Solutions, will have a chapter in the Milady book covering cancer and esthetics. Julie Bach, founder of Wellness For Cancer, is bringing additional awareness to spas and cancer centers that also covers yoga and massage. These are great strides and long overdue in our industry. I hope this encourages all estheticians, massage therapists, and yoga teachers to become oncology trained. No cancer patient should be turned away from receiving a facial, a massage, or going to a yoga or fitness class.
You can read more about my journey on Integrative Cancer Review's online journal under oncology skin care. My Guide to Resources for People Affected by Cancer is also listed on this website. I not only love helping cancer patients with the skin care side of cancer treatment, but also helping to navigate and seek out resources pertaining to their individual needs. Everybody deserves to feel beautiful, and I know the profound effect we can have with a kind word, a gentle touch, and time away from their cancer treatment. "There's No Place Like HOPE."
Story of inspiration provided by
Geralyn O'Brien, LE, Waterford Place Cancer Resource Center
Esthetician for 8.5 years
Practicing oncology skin care for 8.5 years


Learn more about ASCP's Oncology Skin Care Month
Check out our blog here to learn more about this amazing event.