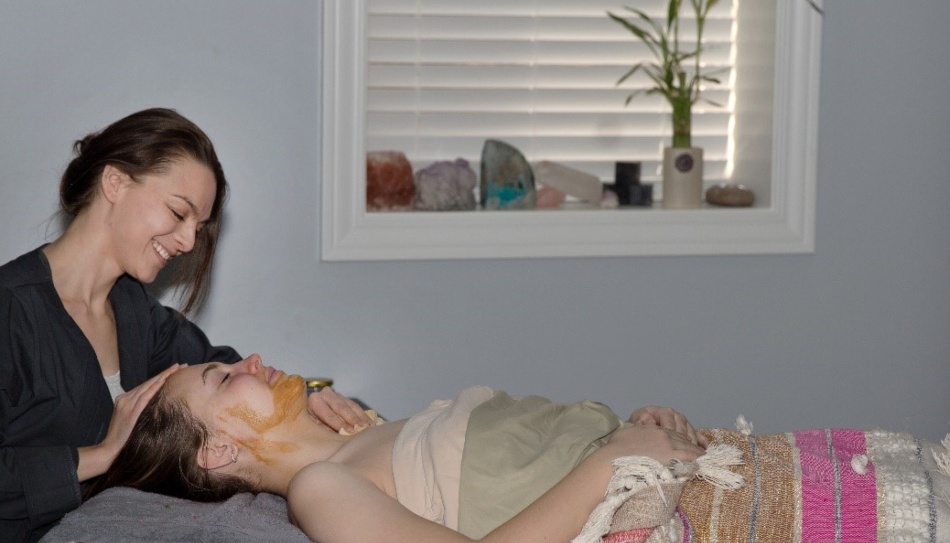 My first week into esthetics school, I recall being behind that closed door of a treatment room for the first time. I felt the safety and intimacy of the esthetician-client experience. Amidst current domestic abuse and trauma, I longed for reciprocated emotional security. I wanted to give my client what I never had—a safe space to be and breathe.
As I became acquainted with my first esthetic trainer, Gina, I intuitively felt her graceful ease surrounding client connectivity. As an esthetician of 13+ years, her advanced knowledge of skin functionality was apparent and I eagerly longed to learn. Shortly after training, I was saddened by her permanent leave. Diagnosed with stage 4 metastatic breast cancer at the age of 33 while on her maternity leave, Gina was now embarking on a cancer journey. She was my inspirational pathway into physiological and oncology esthetics (and she is currently stable, living life as a wonderful wife and mom).
I was sent to facilitate skin cancer prevention lectures for a Mohs Micrographic surgeon. During treatments, I created welcoming restful spaces where tears could flow without judgement. Their hands lay atop mine as a gentle release of worries and doubts flourished. Patients left their clinical facial peel appointment (it was really a mind, body, and spirit healing experience against the desire of the doctors) embracing me with hugs of gratitude. An eagerness of recommendation compliance for topical healing of scarring also ensued. Finalizing two years of lecturing, that research led me to become an ingredient research specialist where I learned the truth about the products I sold. I was now on a heart-centered mission to find true cancer-safe ingredients for my clients. I prided myself on authentic and functional skin education with a dermatology to back my intuition.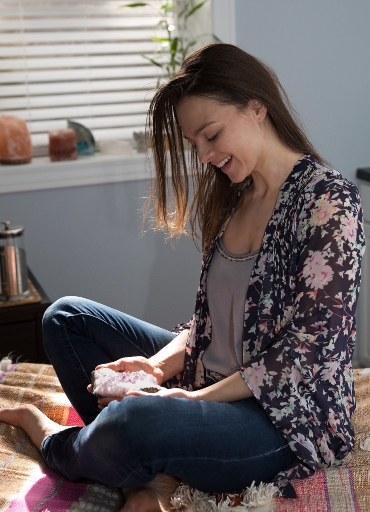 As the founder of Cleanse in Truth Skincare, an intuitive organic healing clinic near Chicago, I am grateful to the cancer survivors and nonsurvivors who entrusted me to carry the wake of their optimism, love, and strength.
Losing my grandmother following a rapid diagnosis of leukemia when I was six years old left a loneliness within me that was unexplainable. Following her mother's genetic footsteps, my aunt lost to a twenty-year battle of polycythemia vera. Her diagnosis later altered to acute myeloid leukemia, which led to her passing her mother's age by one year, 56.
As fate would intervene, the day she died I was asked as a fill in to speak on cancer and avoidance of carcinogenic substances via internal and topical ingestion. As blood cancers, clinical depression, and anemia genetically proliferate paternally, I wanted deeply to understand the pathology of these diseases that left my loved ones unable to live during their living years. I was also called to be a safe space for mind, body, and spirit. I recall seeing my aunt several days following a series of chemotherapies and emergency blood transfusions. I was shocked to see skin that was translucently falling off the bone and a scrawny body that had aged decades overnight. A few years after her defeated battle, it was time for my father's passing.
I immersed myself energetically and functionally in cellular renewal. Shortly after, I became a certified oncology esthetician so I could personally offer clients deeper compassionate care. I learned of Sparks of Light through Faye's Light and immediately became connected to the organization with the purpose of offering cancer care treatments once a year at no cost. This has linked me to a network of patients in need of tranquil renewal through safe skin care ingredients and tenderness of touch. It's delightful when a pre- or post-oncology client discovers I am an oncology esthetician. I can see the spark in their eye and I can feel their relief that they are in benevolent safe hands. My career was forever changed through oncology esthetics and I am honored to make a difference among so many lives.
Story of inspiration provided by

Melissa Armstrong, LE and owner of Cleanse in Truth Skincare Clinic
Esthetician for 13 years
Practicing oncology skin care for 6 years
LEARN MORE ABOUT ASCP'S ONCOLOGY SKIN CARE MONTH
Check out our blog here to learn more about this amazing event.