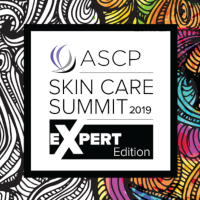 Looking to find your esty edge? Learn how to set your treatments and product recommendations apart from the competition by joining us for the ASCP Skin Care Summit: Expert Edition!
Tune in from the comfort of your computer to watch and interact with industry experts as they present the latest insights in skin care—from the use of human stem cells in skin care treatments to the chemistry behind the most cutting-edge products. These topics were designed with the expert esthetician in mind who wants to advance their career with the knowledge needed to provide real results in today's world.
Here's just one of the informative sessions you'll be a part of during this FREE full day of online learning:

Skin Care Ingredients—The Good, the Bad, and the Ugly
Learn everything you ever wanted to know about skin care ingredients with compounding pharmacist, cosmetic chemist, and nutritionist, Benjamin Knight Fuchs, R.Ph. Learn invaluable knowledge that will allow you to identify the essential ingredients for supporting the body's biochemistry and creating change in skin health, along with common misleading ingredients that do little or nothing for the skin—and may even be harmful. Gain all the practical knowledge needed to read and evaluate product decks and confidently address your clients' skin care needs. You will never look at an ingredient deck the same way!

ABOUT THE PRESENTER
Benjamin Knight Fuchs, R.Ph. is a registered pharmacist, nutritionist, cosmetic chemist, and the founder and formulator of Truth Treatment Systems. Fuchs has been compounding custom prescription medications and skin care products, and has been consulting with physicians and patients for more than 35 years. Fuchs is nationally recognized for his work as the on-air pharmacist/nutritionist host of the The Bright Side radio program and lectures nationwide on the importance of strategic use of cosmetics and nutritional supplementation for healthy skin and wellness.

Join ASCP as we bring you two FREE days of online expert-level education at our 2019 ASCP Skin Care Summit—EXPERT EDITION on Monday, October 14, 2019 and Monday, October 21, 2019.