Utilizing COVID-19 best practice recommendations from the Centers for Disease Control and Prevention (CDC) and the World Health Organization (WHO), guidance from other infection control experts, findings from the limited and preliminary research on the virus, and the most accurate updates we could gather from the quickly-evolving science, we've compiled this document of practice protocols that seem most appropriate for estheticians who are choosing to move forward with reopening their businesses. This document does not represent a recommendation from ASCP for reopening your practice, but rather gives our best guidance for when that time comes.
Still No Guarantee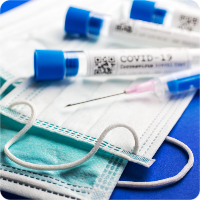 Estheticians should remain mindful of the continuing risk of COVID-19 transmission. When you choose to resume services, revised protocols should be put into place for the health, safety, and comfort of you, your clients, and your staff.
In lieu of a cure, vaccine, antibody tests, or other intervention for COVID-19, there is no way you can venture back into practice without some heftily revised protocols to protect you and your clients, and yet, like with most other pathological encounters, there is still no guarantee that you or your clients will come away from your interactions unscathed.
Important Reopening Considerations
Always abide by the guidelines and recommendations of your state and/or local governments, as well as the rules and regulations of your regulatory agency in regard to reopening your practice. This plan may go above and beyond your state. If you are working as an employee, consult with your employer to understand the precautions that they are taking on behalf of you and your clients.
Your liability insurance is valid as long as you are in compliance with your state and local regulations. Because many states are opening in phases and or opening regions or counties individually, we encourage you to view your state's website and contact your local authorities for specific regulations and official information in your area.
For more information on CDC's guidelines for businesses and employers visit www.cdc.gov/coronavirus/2019-ncov/community/organizations/businesses-employers.html
ASCP believes a requirement in any reopening plan is the heightened use of personal protective equipment (PPE), specifically disposable gloves, face masks and/or face shields. Understand, however, that PPE is scarce and any available supplies are being redirected, rightly so, to frontline workers and health assistance staff (nursing homes, home health aides, etc.) who are still operating without the proper supply of equipment they need to work safely. ASCP believes it's professionally unethical to divert supplies from this delicate supply chain for non-emergency equipment requests at this time. Consider other options for face coverings for you and your clients in the interim.
We have an overview of PPE options at Use of Personal Protective Equipment (PPE) for Skin Care Professionals.
What Your New Business Might Look Like When You Reopen
Use this time to update your business practices including changes to your cancellation policy, waiting room layouts, scheduling/booking protocols, and language changes for your website and materials.
Consider the number of clients you will be able to accommodate and if your hours of operation should change. With new working protocols and greater infection control standards, appointments should be staggered, and time allotted for increased sanitation and disinfection.
Consider altering your menu of services to temporarily eliminate offerings that may put you or your clients at risk, such as ear and nose waxing or extractions.
Consider starting with clients who are in lower risk categories for COVID-19 complications.. If you are choosing to remain closed for the time-being, here is some sample language to communicate with clients: Our goal is to be a stress-free sanctuary for you. The well-being of our clients and our staff is our number one priority and for this reason, we are taking extra precautions and have chosen to stay closed at this time. We look forward to welcoming you back in the coming days.
For more ideas and specific protocols, choose one of the seven other sections in the menu above.