By Benjamin Knight Fuchs RPh
This same phenomenon of trauma inducing more functional tissue has relevance for the body's largest organ. By disrupting the skin's surface in a manner similar to the micro-damage that takes place in our muscles when we exercise, we can make our skin stronger and more resilient. A good chemical face peel can induce the production of a more effective barrier, improve the health and function of the epidermis, stimulate the secretion of water by trapping hydrating factors and moisturizing lipids, and activate the synthesis of collagen and connective tissue in the dermis. After an effective chemical peel, skin texture is dramatically improved, appearance of fine lines is reduced, and dark spots are lightened.
Over time and with regular treatments, skin will be conditioned, smooth, and healthy looking. Chemical peels can be especially helpful for blemish or acne-prone skin, and can not only help accelerate the healing of old breakouts but also prevent the development of new ones. And some of the chemicals used in these procedures can eliminate oils (sebum) from the skin surface and slow down their production.
Keep in mind, even after a lunchtime chemical peel, some clients may experience slight redness and the sloughing off of dead skin. Not to worry—these symptoms are part of the healing process, an important element of the chemical peel, and will typically resolve in a day or two, leaving behind youthful, soft, baby-smooth skin!
Truth Chemical Peel Treatment Systems
Mandelic Azelaic Peel
The combination of mandelic and azelaic acids in this professional chemical peel kills acne-causing bacteria and normalizes sebum production while reducing hyperpigmentation and discoloration. It effectively treats throughout the entire life cycle of a blemish and minimizes the risk of postinflammatory hyperpigmentation. It's very effective for addressing melasma and sun damage as well.
Step 1: Cleanse with Peppermint Salicylic Cleanser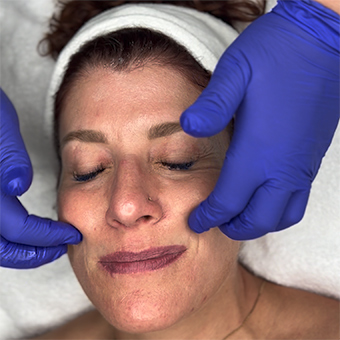 Massage a dime-size amount directly onto dry skin for 30 seconds. Add a slight amount of water and continue to massage for an additional 30 seconds. Remove with warm towel.
Step 2: Pre-Treat with Nutri-Prep Solution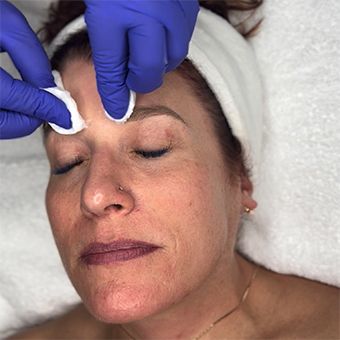 Measure out 2 tablespoons each of Foamy Lift and Exoderma Peel into a bowl and mix well. It should be the consistency of cake batter. If the consistency is too runny, add a little more Foamy Lift; if the consistency is too thick, add more Exoderma Peel.
Step 3: Apply the Forte Nutri-Peel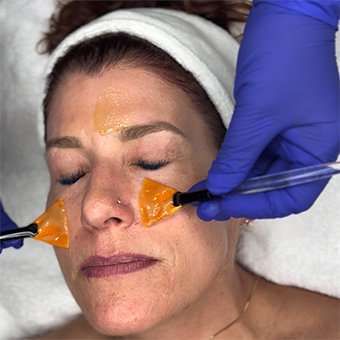 Using a small peel brush, apply to skin using the crisscross application method. Start on the forehead and work down the face, carefully applying a thin layer of peel using even pressure. This peel requires one pass in each area. Observe the skin for a color change or frosting. Once the skin begins to change color and/or you observe frosting, remove the
peel using two cotton rounds. If there is no color change, the peel may remain on the skin for a maximum of 3 minutes. Always engage with your client about their level of comfort.
Step 4: Neutralize with Vitamin C Nutri-lizer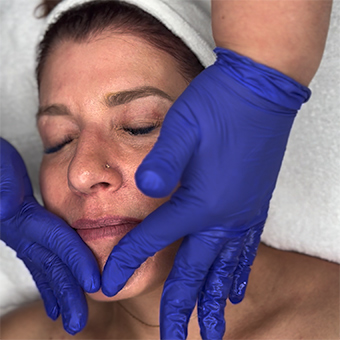 Spritz 5–7 pumps directly onto the skin and saturate the treatment area. The client may experience a slight reactivation/elevation of activity, followed by an immediate dissipation. Remove completely with cold sponges followed by a cool towel. Be sure the client's activity level is zero before continuing. If there is an indication of any activity, continue to apply cold sponges or compresses until the client is no longer experiencing activity.
Step 5: Apply the Cooling Mask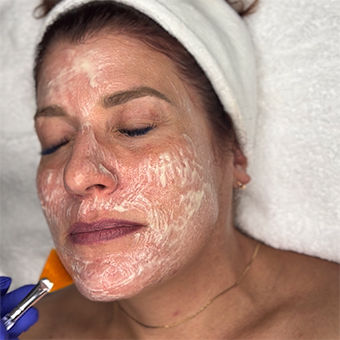 Using a fan brush, apply the mask in an even layer. Allow it to sit on the skin for 10–15 minutes, then remove it with a cool towel.
Step 6: Apply Zinc Calming Spray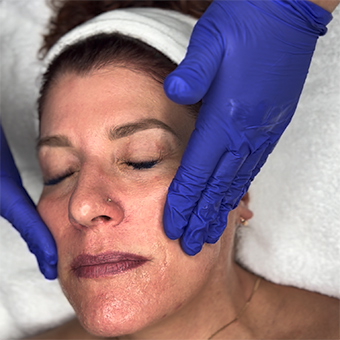 Gently spritz 3–5 sprays directly on the skin. Allow 1 minute for the skin to absorb. Massage for increased penetration.
Step 7: Finish with Omega 6 Healing Cream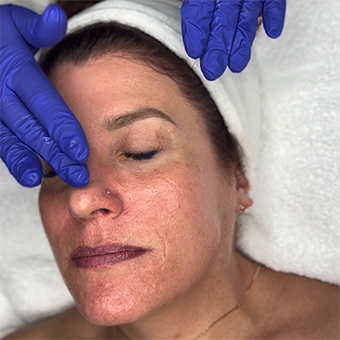 Mix a small amount into the palm of your hand with water or Biomimetic Priming Mist. Dab onto the client's skin with the palms of your hands and massage in to encourage absorption. For best results, send your clients home with Truth Treatment Systems Post Peel Home Care System.