By the Lira Clinical Education team
Melanin is an amino acid responsible for determining skin and hair color. It protects skin from actual or perceived assaults, working as a reactive oxygen species scavenger against oxidative stress, which can be caused by UV light and/or environmental exposure. Our body innately produces melanin, which acts as an antioxidant protectant; think of it as your own natural SPF. Hyperpigmentation—a condition in which patches of skin become darker in color than the normal surrounding skin—is caused by an overproduction of melanin in the skin.
The Function of Melanin in Skin

To understand and manage hyperpigmentation effectively, we must travel into the skin to know where melanin is created and how it functions. Melanin production, or melanogenesis, begins in the melanocyte, which resides in the stratum germinativum along the epidermal/dermal
junction in our skin. Melanocytes produce organelles called melanosomes. Skin with more concentrated pigment has larger melanosome granules, causing darker skin tones. Melanosomes are primarily distributed into keratinocytes through phagocytosis. Once the keratinocytes become flooded with melanosomes, our skin is pigmented. The concentration of melanin determines how dark the color is on the skin surface.
Genetics are the primary indication of melanin levels and the size of melanosomes produced. External and internal factors impact melanin production and often influence misfunction. Inflammation is the primary cause of misfunction in the melanocyte and can be triggered by
sun exposure, hormonal imbalances, heat and extreme weather, manual manipulation, and trauma to the skin.
When melanin production malfunctions, becoming sporadic or hyperactive, this initiates hyperpigmentation. Melanin management is the key to unlocking skin correction for brighter, healthier skin. This is where suppressing or inhibiting specific activities in the melanosome distribution is addressed for all skin correction, including hyperpigmentation. Just like any biological management, it must be addressed daily—like dental hygiene and brushing your teeth. The most effective management of hyperpigmentation is a combination of daily home care, weekly home treatments, and monthly in-clinic treatments.
Managing Hyperpigmentation

Every client needs to have realistic expectations for both skin correction and maintenance. As a skin care professional, it's your responsibility to establish a solid foundation of both home care and treatment goals.
Daily Home Care
A daily home care program should address not only skin correction, but also maintenance and prevention. Make sure your recommended daily regimen contains brightening agents from start to finish. Industry-standard tyrosinase inhibitors such as hexylresorcinol, arbutin, mulberry, licorice, kojic, and azelaic acids should be incorporated into multiple products, not just one serum. Minimum broad spectrum SPF 30 is a must-have application every morning, regardless of sun exposure.
Weekly Home Treatments
Professionally guided weekly home treatments will maintain in-clinic correction while conditioning the skin for future treatments. Inflammation must be minimized by using active agents such as polyhydroxy acid blends, retinol, and salicylic acid. The myristoyl peptide family
aids in controlling inflammation while topical probiotics contribute to a healthier microbiome. A healthy, active stratum corneum invites healthy melanocyte activity, preventing future hyperpigmentation.
Monthly In-Clinic Treatments

Ideally, clients should be habitual in scheduling monthly in-clinic appointments. During each appointment, skin should be reevaluated for what it needs. In-clinic treatments are then customized, addressing the client's primary skin concerns as well as underlying co-issues to optimize results. Take into consideration the client's lifestyle and skin commitment level when personalizing their skin service. Incorporate progressive resurfacing agents for the most effective hyperpigmentation treatments. Use proven brightening actives such as lactic acid, retinol, and salicylic acid. Blended resurfacing solutions combined with restoring plant stem cells, brightening botanicals, and tightening peptide technology control inflammation and topical irritation, limiting the potential for post inflammatory hyperpigmentation. All skin types and conditions can then experience skin correction when inflammation is limited in every treatment step. Clients should see and feel a difference in their skin.
Lira Clinical
Renew Brightening Protocol
Level up skin's brilliance with proven lactic and mandelic acids. Next-generation peptides are infused with vitamin C to nourish skin and restore youthful skin texture and tone. Marine extracts and hexylresorcinol tighten and balance skin with the best that science and nature have to offer!
Before and After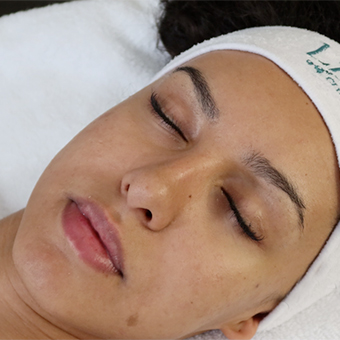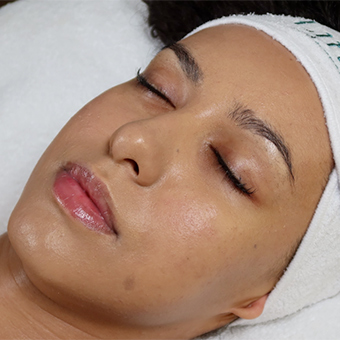 Step 1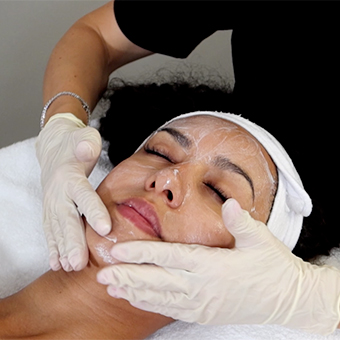 Cleanse: Using dry hands on dry skin, cleanse with MYSTIQ iLuminating Cleanser, removing eye makeup if applicable. Cleanse a second time with the ICE Sal Cleanser, which lowers the skin's surface pH without inflammation through an advanced healing peptide delivery system. Both cleansers are formulated with Lira's exclusive MASQtech brightening technology. Remove with tepid cleansing sponges or a barber towel.
Step 2

Prime: Using gauze, apply Primer Plus Solution, beginning at the forehead, then moving around the perimeter of the face, down the nose, and across the cheeks, chin, and upper lip. Some activity may be felt with the combination of lactic, salicylic, and glycolic acids preparing
a clean canvas for the exfoliation step. This is normal.
Step 3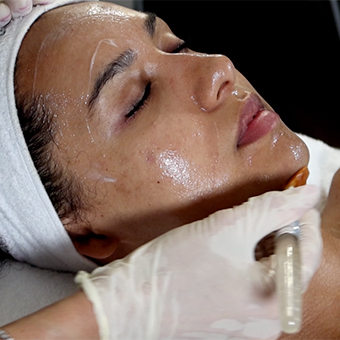 Exfoliate: Combine equal parts Lactic Clear and BIO Lift Crème, whipping together with an applicator or mask brush. This hybrid treatment can be performed on any skin type, targeting hyperpigmentation with lactic and mandelic acids, epigenetic technology, and brightening
botanicals. Apply to skin with fingertips or a brush, then gently massage into skin as needed for desired level of correction. Continue to monitor for erythema, allowing the skin to rest 1–5 minutes. Remove the mixture with a cool barber towel or cleansing sponges until no activity is felt on the skin and the client's activity level is at a zero.
Step 4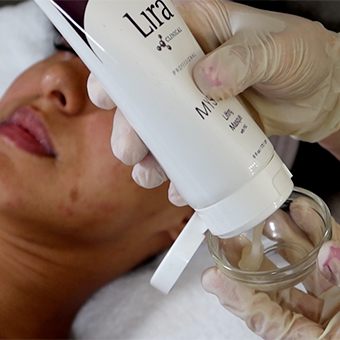 Masque: Using upward strokes with fingertips or a fan brush, apply a thin layer of MYSTIQ Lifting Masque from neck to forehead. Allow skin to rest 10–15 minutes, until the masque is completely dry. Encourage the client not to talk and to feel the tightening marine extracts and restoring minerals. Remove with a cool barber towel or cleansing sponges.

Step 5

Balance: Re-mineralize and nourish skin by spritzing pH Solution across the entire facial area and allow it to absorb.

Step 6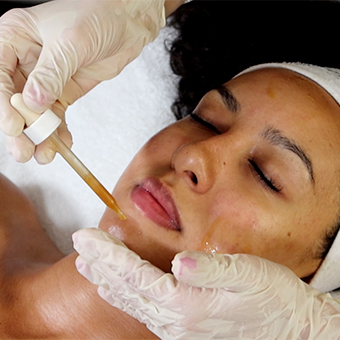 Brighten: Apply 3–4 drops of PRO Lite Serum, working it into the skin. Science and nature's best brighteners are formulated into this must have in-clinic and retail product that contains hexylresorcinol, kojic and azelaic acids, Chromabright, mulberry, gooseberry, and MASQtech ingredient innovation.

Step 7

Heal and Hydrate: Apply MYSTIQ Infused C, working it into the skin. Clinical cannabidiol, BV-OSC vitamin C, and terpene-rich MASQ-tech brighten and restore skin health. Massage one pump of BIO Hydra Infusion into skin to hydrate and calm.
Step 8

Eyes and Lips: Gently massage MYSTIQ Perfecting Eye Crème into the eye area. With an applicator, apply BIO Lip Factor to lips, volumizing with Maxi-Lip and a kiss of citrus.

Step 9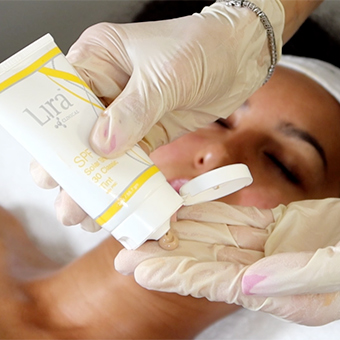 Protect: Apply SPF Solar Shield 30 Classic Tint or BB Crème (color of choice) with a pat-n-roll technique over entire face.