My name is Holly Brown and I'm a licensed esthetician in Massachusetts. I also hold certification in oncology esthetics through Oncology Spa Solutions. I am executive director and founder of a nonprofit 501(c)(3) public charity called Looking & Feeling FAB, Inc. (LFF), the first oncology skin care nonprofit of its kind in the country. Our mission is to offer comfort and relief to those with cancer through integrative therapies, alleviating side effects, and improving quality of life. Here is my story.
In 2012, I was helping out at a friend's spa as a business manager after receiving my associate degree. One day she said, "I need to hire an esthetician, but I can't find anyone I trust as much as you." I was on disability for multiple sclerosis, diabetes, and a clotting issue called lupus anticoagulant agent, and I couldn't stop thinking about what she said.
For me, becoming an esthetician would help keep me on the move and give me a sense of purpose now that I could no longer commit to an everyday job. I went home and mentioned it to my husband and made an appointment at the local esthetic school. The following week I attended my first day of the 300-hour, full-time esthetic program. The experience of esthetic school changed my life. I fell in love with the esthetic world and became quite intrigued by skin. Almost to graduation, I received a call from my doctor with grave concern. I had a routine MRI for multiple sclerosis and they saw something going on with the lymph nodes. She advised that I needed a CT scan immediately. After the CT scan, I received a call on the way to my first job working as an esthetician. The news was not good; I would need an immediate biopsy of my lymph nodes, which would explain why they had grown to an unusually large size. After the biopsy, I was diagnosed with sarcoidosis, a rare and relatively unknown lung disease that can attack any of your organs. After consulting with specialists because I now had two autoimmune diseases, they started me on chemotherapy. I take an 8-hour infusion of Rituxan every 6 months. The medicine works great and has enabled me to maintain my strength and stay on the move; however, I developed a nasty rash on my back. It even contained open lesions that began oozing. I went to my doctor, and after discussing the rash he looked me dead in the eye and said, "You're an esthetician, stay on top of it."
Needless to say, I was horrified at his recommendation and it fueled me to further my research. The more I delved into how cancer treatment affected the skin, the more my passion grew. I went to Arizona and became certified in oncology esthetics. I came home determined to start a nonprofit. Faced with all kinds of negative feedback on how the federal government would never fund a nonprofit for skin care, I sent in my paperwork and waited. Finally, I received the envelope and after opening and reading it, I turned to my husband who was shocked to see me white as a ghost. He said, "What's the matter? You didn't get it?" I said, "Oh, no I did," and he said, "Why do you look so horrified?" I said, "I have no idea what to do."
From that point on, it became quite a learning experience. I took a couple of classes on how to run a nonprofit and did a lot of research. Jordyn Warren, whom I had supervised at the spa when I was business manager, became interested in what I was doing. She went to New York to attend Oncology Spa Solutions' oncology esthetic program and began working with me. Jordyn has been through all the ups and downs we have experienced and has learned along with me, never abandoning me and remaining by my side. She is my ace and I am so blessed and thankful to have her. (See Jordyn's oncology story here.)
Jordyn and I began seeing clients. We offered all services at no cost and gave as many products as the client needed for free. We were renting a little room and started to do educational presentations. Our client base was growing and we were starting to build a great reputation and people started to become interested. Some adversity still existed, but we concentrated on those who believed in us and saw the great results of what we were doing. That was, until the day I received a call from my treasurer informing me that we needed to vacate the room we were renting because the charity was out of money and we couldn't afford anything. I went home extremely discouraged. This was hard and I was tired. Although I was strictly volunteer, we needed money for rent, to pay Jordyn, and buy product. Up until this point, my husband and I had been going to craft fairs and selling bracelets I made and handing out literature to educate people of our service. We would stand in front of grocery stores and ask for donations and, although humiliating at times, we were able to sustain ourselves for two years.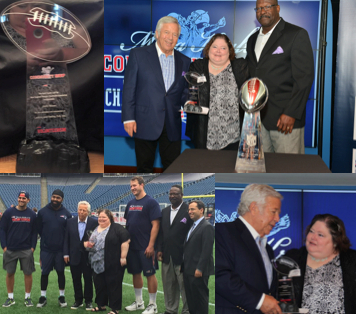 Feeling defeated, I went home that night and was ready to discuss with my family my thoughts of giving up. My sister's roommate had stopped by and after hearing my defeat said to me, "Do you know how many people spend years chipping away looking for gold and they drop the hammer, not to realize they would have hit gold the next day?" I could not get this scenario out of my head. I thought about it for days. Then unknown to me, I received a call that my husband had nominated me for the Myra Kraft Community MVP Award through the New England Patriots. We were chosen, and they gave us a $10,000 grant. My dreams and passion could now continue. FAB was reborn and came back with a vengeance.
At that time, we decided to revamp our program. We put a limit on the amount of services we gave for free and included one set of four full-size products, which became known as the "Wellness Program." We approached owners of facilities who could accommodate our clients and asked them to donate the space. Barbara Devlin, who saw LFF clients on a volunteer basis, now had her own space, and since she was becoming busy, she invited us to use her space to continue seeing clients. Barbara is so knowledgeable, having been in the esthetics business many years as well as being an esthetic instructor, that she has become invaluable to LFF and its estheticians. We are so happy to have Barbara as part of our family.
Perhaps our biggest accomplishment came when we secured an agreement with Signature Healthcare Brockton Hospital to refer their patients to us for a complimentary treatment. The hospital program is funded through the Chrystine M. Sullivan foundation, raising funds through a walk they co-sponsor to cover the cost of the program. These monies allow us to treat people with life-altering devastating skin reactions and build our education. Deemed the industry leader in treating oncology skin, we became trusted and respected by those undergoing cancer treatment and were recommended throughout the cancer community. Becoming so busy, we brought on Christina Murdock, who was an instructor at the local esthetic school. After becoming oncology trained, she was determined to join the LFF team.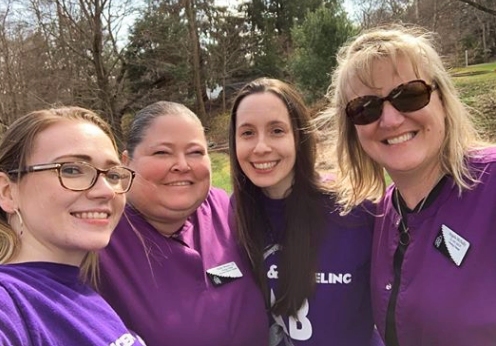 During training, I observed Christina's gentleness and compassion when she was working with clients and quickly saw how well she fit in. Since Christina held dual licenses and knowing how beneficial massage treatments were to those suffering with cancer, Christina attended oncology massage training. Having met Angela McNally in the past and seeing she possessed the same type of passion as Christina, Jordyn and me, we brought her on board. Our LFF team was growing. We work together, learn from each other, support each other, and have become known as the FAB 4. We share a strong passion to help those suffering skin reactions from cancer treatment. LFF is very fortunate to have dedicated professionals on its side.
Today, LFF is in the 6th year, treatments are offered in five different facilities across Massachusetts: Whitman, Woburn, Westborough, Norwell, and Somerset. We continue to treat patients for Signature Healthcare Brockton Hospital. We became official instructors for the Livestrong program at five different YMCAs, work with Old Colony Hospice Elder Services, and became affiliated with several hospitals and medical centers in the area. Our team volunteers for retreats and participate in community events. One special story recently surfaced that I cannot go without sharing.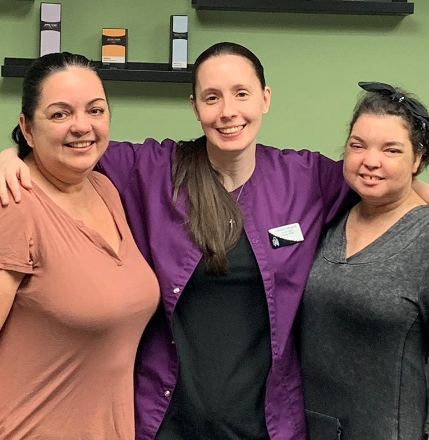 Meet Melanie, 23! As with many of the residents of Puerto Rico, her home was ruined by the devastating effects of Hurricane Maria last year. And when she was diagnosed with cancer some time later, the hospitals there were not equipped to treat the rare type she had. Her family has very strong ties to their community and their church, who raised enough money to send her and her parents to the US for the treatment she needed. After going through radiation from head to toe, Melanie's skin was severely damaged all over her body. Her skin was dry, sensitive, flaky, itchy, and discolored. She came to FAB in the hopes of healing her skin. After only a couple of months, she is happy with the dramatic results she has achieved with her specialized in-spa treatments and home care we provided all at no cost to her. Her skin is soft, supple, healthy, and the lightening of her dark spots are a testament to a great skin care regimen. Her mother (pictured on the left) is her caretaker and is also receiving some pampering and products from FAB, and her husband says she's getting younger-looking on him, and his daughter Melanie gets more and more beautiful every day! She was so inspired by the help she received by Holly, Christina, and Barbara, she is going to enroll in esthetics school and become an oncology esthetician so she can help others with what she's overcome!
How can you not love what you do after hearing how you have influenced and changed someone's life? To date we have administered treatments to over 200 clients who are suffering skin reactions from cancer treatment; some with skin reactions so bad they won't leave their house or return to work and go into a deep depression to hide from the world. Looking & Feeling FAB, Inc. with its estheticians, massage therapist and Board of Directors, work hard everyday to help those who need it most.
Story of inspiration provided by

Holly Brown, LE and executive director/founder of Looking & Feeling FAB, Inc.
Esthetician for 6 years
Practicing oncology skin care for 6 years
LEARN MORE ABOUT ASCP'S ONCOLOGY SKIN CARE MONTH
Check out our blog here to learn more about this amazing event.