Information for ASCP Members and Estheticians on State Updates Regarding COVID-19
We are tracking state updates on COVID-19 closures, reopenings, and mandates and updating as often as possible. A general overview of the situation across the country is:
Most states are open for estheticians and skin care professionals to practice in some fashion.
In states that are open, there is usually some specific legal guidance for members to follow.
Many states have additional opening restrictions and guidelines on a local or county level, and you should be sure to look up your local county guidelines.
Your liability insurance that comes as a benefit of ASCP membership is valid as long as you are in compliance with your state and local regulations. Because many states are opening in phases and/or opening regions or counties individually, we encourage you to view your state's website and contact your local authorities for specific regulations and official information in your area.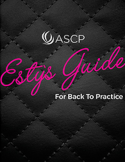 As states and counties re-open, there are many factors to consider when returning to a post-COVID world, and we encourage you to review our Esty's Guide for Back-to-Practice that addresses these issues and guides you on mitigating risk and helping to keep you and your clients safe.
Esty's Guide for Back-to-Practice

Please email gr@ascpskincare.com to share updates from your state and local governments.
If you have ideas for ways that the profession can support our community and one another during this time, please share them with us at getconnected@ascpskincare.com. We'd love to hear from you.
FOR ADDITIONAL INFORMATION AND RESOURCES, PLEASE CHECK OUT OUR BLOG, "CORONAVIRUS AND YOUR PRACTICE" TO LEARN MORE.