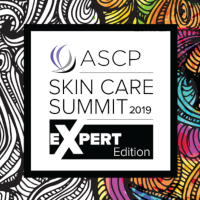 Looking to find your esty edge? Learn how to set your treatments and product recommendations apart from the competition by joining us for the ASCP Skin Care Summit: Expert Edition!
Tune in from the comfort of your computer to watch and interact with industry experts as they present the latest insights in skin care—from the use of human stem cells in skin care treatments to the chemistry behind the most cutting-edge products. These topics were designed with the expert esthetician in mind who wants to advance their career with the knowledge needed to provide real results in today's world.
Here's just one of the informative sessions you'll be a part of during this FREE full day of online learning:

How to Treat Skin of Color—Precautions, Considerations, and Recommendations
The claim that "everyone is beautiful" is professed loudly and frequently by beauty brands, but the claim should to be validated by making services, treatments, and products available to all ethnic, cultural, and racial backgrounds. During this presentation, you will learn the unique characteristics, disease and disorder presentations, cultural and dietary considerations, treatment recommendations, and precautions when treating skin of color, including black skin of African descent, Asian skin, East Indian skin, Latinx skin, Nordic skin, and transgender skin.

ABOUT THE PRESENTER
Mary Nielsen is a technician, educator, mentor, and business owner. She has been at the forefront in medical esthetics since its infancy in the early 1990s. She is currently vice chair and industry expert on the Oregon Board of Certified Advanced Estheticians. She is the author of "Fearless Beauties," along with other esthetic texts. Nielsen is the executive director of an esthetic school in the Portland, Oregon area and the founder of "Fearless Beauties".
Join ASCP as we bring you two FREE days of online expert-level education at our 2019 ASCP Skin Care Summit—EXPERT EDITION on Monday, October 14, 2019 and Monday, October 21, 2019.