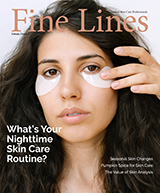 Fine Lines magazine was ASCP's magazine for skin-savvy consumers. The magazine, which was published from 2019 to 2021, educated consumers on the lasting benefits of professional skin care and how their overall health affects their skin.
While ASCP no longer publishes Fine Lines, your membership gives you access to Skin Deep magazine, ASCP's premier quarterly print and digital magazine for skin care professionals.
Each issue of Skin Deep includes:
Snippets on new products, industry updates, upcoming events, and online content you may have missed
Expert advice about skin health, trending ingredients, business acumen, and more
In-depth features produced specifically to help you be the best skin care professional you can be
Highlighted benefits of ASCP membership, including discounts, new perks, and legislative updates
You can view old issues of Fine Lines for free at any time. Check out the archive for articles on a variety of professional skin care topics with tips for healthy living. You can also send digital issues of Fine Lines to your clients by copying the link below.