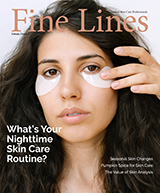 Welcome to Fine Lines magazine, ASCP's digital magazine for skin-savvy consumers. Fine Lines magazine is designed to educate consumers on the lasting benefits of professional skin care and how overall health affects our skin. This beautiful publication is published by the editorial team of Associated Skin Care Professionals.
Fine Lines blends features on a variety of professional skin care topics with tips for healthy living. Readers emerge with a better understanding of esthetics, inspired to book another appointment. The Fine Lines philosophy considers professional skin care an integral facet of a healthy lifestyle, not just an indulgence. This is a message worth sharing with your clients.
You can send Fine Lines to your clients by clicking through to our most recent issue below, and copying the link to share.
Previous Issues: